So for some stupid reason, even though my house is full, I keep looking at petfinder for cats and dogs (oddly enough, the potential in every one cheers me up even though I know they are in shitty situations), and I cam across this at around noon today: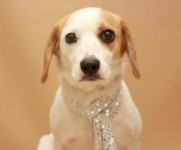 I think I may have actually squealed like a pre-teen girl when I saw that- it's the same sad eyes and flat sad ears that pulled Lily into my life. Thank goodness I have no car because otherwise I would be on the road to Lancaster, Ohio, first thing Monday morning.
That dog is precious and clearly another retired sex worker who needs TO BE ON MY LAP WITH LILY AND ROSIE.