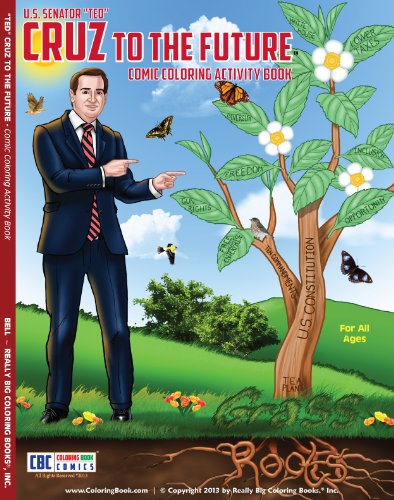 Here's Ted Cruz talking about renouncing his Canadian citizenship. He, Princeton '92 (cum laude), Harvard Law '95 (summa cum laude) didn't know he was automatically a dual citizen because his mother told him otherwise. So now, 42 years after his birth, he's taking steps to deal with the situation, even though he says "My political perspective is focused on representing the State of Texas."
And here's Ted Cruz again, focusing on representing the State of Texas by giving an exclusive interview to stenographer/fellator Jonathan Karl, telling us that he doesn't regret a single thing about his Tortilla Coast putsch, and isn't it a funny thing that his coloring book is the top-selling coloring book on Amazon. That said, Ted does not agree with the coloring book that Obamacare is worse than any war. Everyone knows that the Civil War was worse than Obamacare because Ted's side lost.
At what point do the starfuckers in DC realize that this obviously ridiculous human being is ridiculous? I'm thinking he's about at his Rand Paul moment, to name another ridiculous figure who was their crush for a few months, until he repudiated the Civil Rights Act.
By the way, don't miss the reviews of Ted's coloring book on Amazon. Along with one of the reviewers, I do wonder who thought that partial birth abortion was appropriate in a coloring book for kids, though it will probably justify the purchase of a 120 crayon Crayola set.