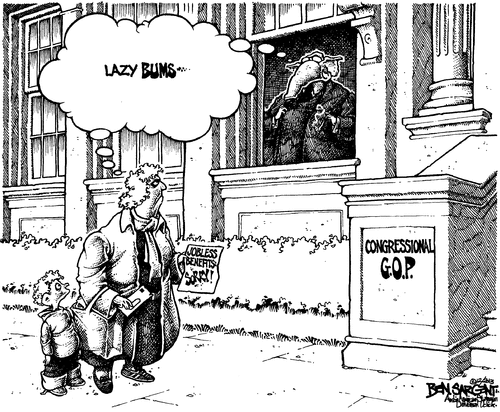 (Ben Sargent via GoComics.com)
.
Not seeing a downside, here:
Democratic Party leaders, bruised by months of attacks on the new health care program, have found an issue they believe can lift their fortunes both locally and nationally in 2014: an increase in the minimum wage.

The effort to take advantage of growing populism among voters in both parties is being coordinated by officials from the White House, labor unions and liberal advocacy groups.

In a series of strategy meetings and conference calls among them in recent weeks, they have focused on two levels: an effort to raise the federal minimum wage, which will be pushed by President Obama and congressional leaders, and a campaign to place state-level minimum wage proposals on the ballot in states with hotly contested congressional races.

With polls showing widespread support for an increase in the $7.25-per-hour federal minimum wage among both Republican and Democratic voters, top Democrats see not only a wedge issue that they hope will place Republican candidates in a difficult position, but also a tool with which to enlarge the electorate in a nonpresidential election, when turnout among minorities and youths typically drops off…

This month, top aides to Mr. Obama including the economic advisers Jason Furman and Gene B. Sperling, Labor Secretary Thomas E. Perez and the legislative affairs office convened a meeting at the White House complex with an array of liberal groups to discuss the minimum wage. The gathering included representatives from Mr. Obama's political arm, Organizing for America, unions and progressive groups like Americans United for Change and the National Employment Law Project…
Apart from a rousing chorus of AboutDamnedTime, what's on the agenda for the start of this peculiar rag-end-of-the-calendar week?