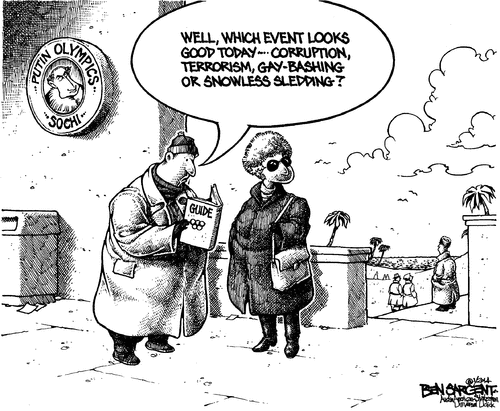 (Ben Sargent via GoComics.com)
You know things are looking dicey for the Games when NBC mixes its uplifting celebration of feisty, spirited, advertiser-friendly (American) athletes with discussion of 'delicate challenges':
A catastrophic terrorist strike at the Sochi Winter Olympics would present the United States with a logistically mind-boggling and diplomatically delicate challenge: How to get more than 200 American athletes safely out of Russia.

U.S. military officials have described plans to use two warships in the Black Sea and planes already on standby in Europe to evacuate Americans if the worst fears of security experts come true…

But at least part of the American contingent for Sochi, the skiing and snowboard teams, is paying a private company, Global Rescue, for additional security.

The company promises communications help, "rally points" for athletes to shelter in place and ways to get them around, or out of, Sochi. Dan Richards, the CEO, said in an interview that Global Rescue has six aircraft that it could "utilize for rapid response."…

Richards would not say what the U.S. Ski and Snowboard Association is paying for the additional protection. The skiers and snowboarders are among the richer American teams…

A large-scale attack would trigger almost unimaginable complications, said Weiss, the Russia expert.

For example: At least 85 countries and 2,500 athletes are taking part in the games. Sochi has a fairly small airport, so who gets to fly out first? And why should the Americans be given priority?

"Something that looks like the U.S. cavalry riding to rescue Russia or Vladimir Putin from an attack seems — well, it's just hard to imagine that happening," he said. "Ultimately, it's all on Russia."
Russia, of course, is doing its best, per the Washington Post:
… Putin has deployed up to 60,000 police personnel, troops and special forces to Sochi — double the number Britain enlisted in London for the 2012 Summer Games. The security services have the technology in place to monitor phone calls, e-mails and Internet activity in Sochi, among Russians and foreigners alike. In November, Prime Minister Dmitry Medvedev gave an order permitting the collection of telephone and e-mail metadata from foreign journalists, Olympic officials and athletes, according to journalists here. The Pentagon has offered air and sea support, including two Navy ships in the Black Sea, if needed….

"It's a really tough gig," said Mark Galeotti, a scholar of Russian crime and security at New York University who is in Moscow. "It's not a particularly easy place to police and control. They are hoping quantity will substitute for quality. Sometimes that works, and sometimes it doesn't."…

"They are sending the boys out to kick down doors of everyone who has ever been a friend of a terrorist," Galeotti said, "on the theory that if people are afraid of being shot or arrested, they might not be talking about perpetrating dark deeds in Sochi."…
Which hasn't stopped some Highly Placed Sources from bitching in public, per the Guardian:
… But some US politicians complained on Sunday that the Russians were not telling US intelligence enough about threats from militant groups operating in the region. "We don't seem to be getting all of the information we need to protect our athletes in the games," Mike Rogers, Republican chairman of the US House of Representatives intelligence committee, told CNN.

"They're not giving us the full story about what are the threat streams, who do we need to worry about, are those groups – the terrorist groups who have had some success – are they still plotting?" Rogers said…
Of course, Mike Rogers had some other very strong opinions on those same Sunday shows:
The chairman of the House Intelligence Committee on Sunday condemned former National Security Agency contractor Edward Snowden as a "thief" and said he may have had help from Russia.

"I believe there's a reason he ended up in the hands, the loving arms, of an FSB agent in Moscow," said Rep. Mike Rogers (R-Mich.), referring to Russian President Vladi­mir Putin, a former head of the Russian security service. "I don't think that's a coincidence."…
The Norwegian men's curling team are poised to show off a new round of "crazy, funky pants… more outrageous than ever", but there is no way our homegrown Republicans are going to let those Vikings steal the title of Biggest Clowns of the 2014 Games.