On 20 June 1992, as Shawn and Geoff Wood (my buddy who died in a car accident who I still, to this day, think about every single fucking day) dropped me off at the Fulda train station, a conversation ended. Today it started again, and I will be damned if there was no interruption in the conversation. It just was like it was just a few days ago. Here's my buddy Shawn Reagan slinging bass and chilling with Lily: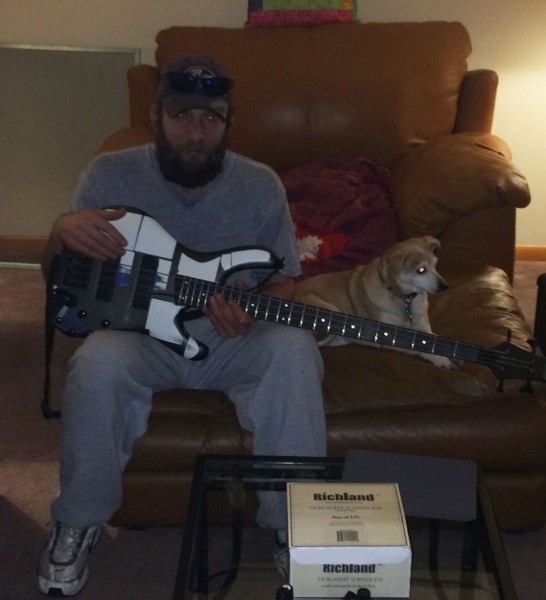 We're rocking out to Little Feat and shooting the shit. He's playing along with many of the songs and is quite good.
*** Update ***
Not sure if I am just really good at assimilating animals, or if all my animals are sluts and really do not care about me, but I love how they immediately adopt "strange":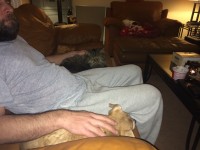 Fair warning. You walk into my house, you are getting a pet or two on your lap.
Shawn and I both had a good laugh about our mutual involvement and freak-out from the Doha Dash, and got pissed off again by the pigheadedness that led to a hasty clean-up of DPICM and FASCAM and other munitions that led to a couple EOD guys getting turned into pink mist in front of us as they tried to get rid of a bad 120mm round (or whatever it was, and thank goodness I didn't have to witness that) that had not entirely cooked off. Fucked up shit.
I just remember being in my bunk and munitions started to drop through the roof, and a receiver base for .50 cal landed next to me, and I woke up in a froth and ended up pulling my shit together in a second or two, wondering if they were using Soviet tactics and rolling the arty in before the fight started (I was just a dumb PFC From Fulda, that was all I knew), then figuring out there was no one to kill to make it stop, grabbing my LBE, helmet, weapon, toothbrush, and a carton of smokes and running like hell with Geoff, and meeting up with a bunch of guys in the UN compound. Not much you can do when the motor pool is blowing up and hellfire is raining down on you in all directions. Not like you can mount an assault and take the motherfuckers out. You just run and get out of the fucked up AO and hope you don't step on a landmine.