Went to bed and fell asleep and promptly had a nightmare which is just too fucking weird to describe, chugged a bunch of water, and am playing Abbey Road at ear bleeding volumes and Lily is on my lap and my man is right next to me: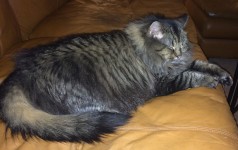 If you have never had panic attacks and nightmares, you will never understand the wave of terror while they happen or the wave of odd euphoria that washes over the body when you know you aren't going to die. If it ever happens to you, I recommend Houses of the Holy, Abbey Road, Wish You Were Here, Animals, or Eat a Peach. Really, that is all I have in my arsenal, but it has worked for me.
One of these days it will stop.