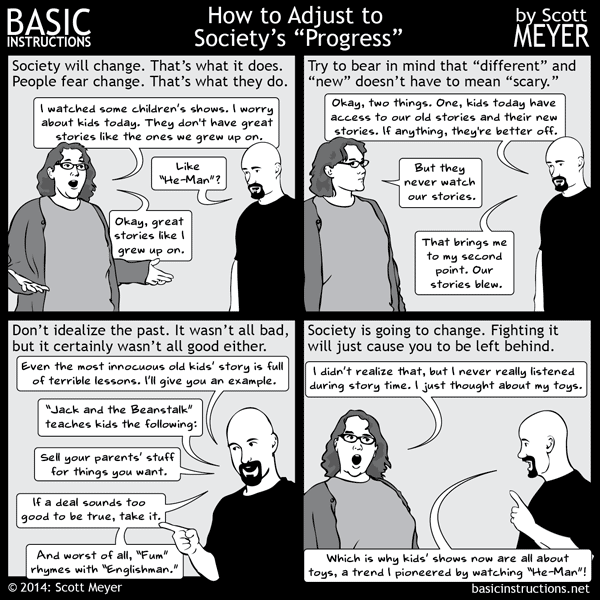 (Scott Meyer's website)
.
Deborah Fallows, in the Atlantic, has been writing about "the curious geography of American greetings" — what strangers at a gathering ask each other in an attempt to establish common ground. Her latest post on the topic:
"Hello. Where did you go to high school?" When so many of you nominated this question as your natural conversation starter, as I mentioned here last week, it was tempting to dismiss it as an example of how Americans never quite get over high school… But you wrote with such enthusiasm, thoroughness, and conviction, that it looked like something else was going on. So, I decided to look again…

From your descriptions, it became clear that "Where did you go to high school?" is another way of asking "Where do you live?" But you aren't seeking a simple answer of name or geography with either of those questions. You are using those questions to seek valuable information about the socio-economic-cultural-historical background of a person. It helps you orient that person in the context of the world as you live it and interpret it…
I can understand the context behind the question, but in forty years I've never had it asked of me as a conversation starter. Possibly because I left a community where "What's your parish?" was as much sociocultural granularity as anyone needed, for a midwestern state university town ("Where are you from?" — back in the 1970s, when I answered "the Bronx" the most common responses were "Oh, so you're Jewish?" and "I know someone from [general NYC area], do you know them?") before ending up in an area north of Boston where the conversation-starter is one's town…
Is "Where did you go to high school?" actually that common, or do Fallows' readers not share much overlap with Balloon Juice commentors?
**********
And apart from weird memories, what's on the agenda for the start of the work week?