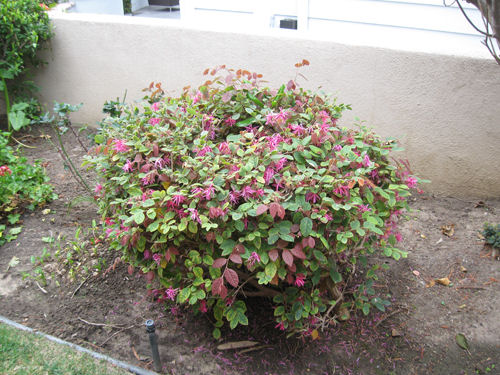 The further adventures of commentors Mary G and Higgs Bosun's Mate [last week's installment here]:
Here are two mystery shrubs, which have been here forever. I have no idea what they are and hope some of the expert Balloon Juice commenters can ID them for me. Both have done better this drought year than ever, so we have been overwatering them all along, but they forgave us.

Mystery shrub number one above, followed by a close-up of its flowers; it seems to have both green and purple leaves, with festive, frilly pink flowers:


Mystery bush two, with close-up of its flowers, which look a bit like sweet peas and only grow on the very tips of the branches:




This red trumpet vine belongs to the house one house up from the house that backs onto mine. It travels somewhere between 50-75 feet to grace our tree:


This alyssum seeded itself by the pool heater from pots a few years ago and keeps itself going. The day before I took this picture I had run over it squeezing past on my mobility scooter and left a big gouge going down the middle, but you'd never know it only one day later. I love the smell of alyssum when it's hot, or mashed.

I had thought that the great tomato vine of 2013, which was finally cut down after providing fruit for a full twelve months, from March to March, had obliterated my Chinese maple/abutilon that was planted next to it, but the abutilon survived and is blooming a little, despite the encroachment of jasmine vine from two of the other sides. Somewhere in that mess is also a passionflower that blooms in the fall.


Things we planted last fall have been flowering, too. I had never been able to get ranunculus tubers going, which is embarrassing because they used to grow acres of them south of here before suburban sprawl took over Carlsbad. You are supposed to plant the tubers in pure sand or very sandy soil, so I had HBM plant them in the soil mix we made for succulents. They came up fine. However, as I said before, we got less than a quarter-inch of rain all winter up until the one storm we got a couple of weeks ago. I had HBM water them constantly, but we didn't originally have the plates under the pots so they were always too dry. I didn't even think to feed them, as I was so shocked they were coming up at all. Most of them were scrawny little plants that produced only one or two sad little single flowers. Here is the exception:


Next fall I hope I can start them in small pots in a really sandy soil, and then replant them in their bigger pots with more loamy soil, fertilizer and mulch. If we get at least a little rain, they should look much better and bloom much longer than this year's crop did.
To be continued on next rock Sunday…