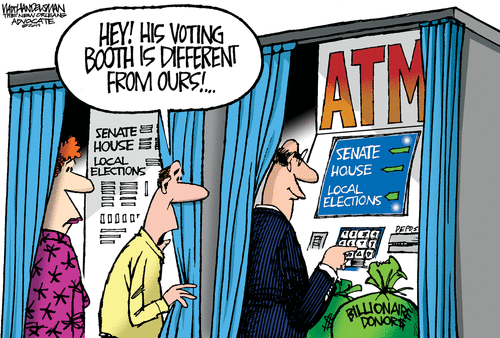 (Walt Handelsman via GoComics.com)
Anybody up for a Book Chat? Jill LePore, in the New Yorker, reviews Senator Elizabeth Warren's upcoming autobiography:
… Warren's book was originally called "Rigged," a reference to her contention that the American political system places power in the hands of plutocrats and bankers at the expense of ordinary, middle-class Americans. "Big corporations hire armies of lobbyists to get billion-dollar loopholes into the tax system and persuade their friends in Congress to support laws that keep the playing field tilted in their favor," Warren writes. "Meanwhile, hardworking families are told that they'll just have to live with smaller dreams for their children."

"A Fighting Chance" is in many ways heir to a book published a century ago. "Other People's Money and How the Bankers Use It," by Louis Brandeis, appeared in the spring of 1914. Brandeis believed that the country was being run by plutocrats and, especially, by investment bankers, who, by combining, consolidating, and aggregating the functions of banks, trusts, and corporations, controlled both the nation's credit and the majority of its resources—including the railroads—and yet had not the least accountability to the public or any sense that the functions they had adopted were essentially those of a public utility. "The power and the growth of power of our financial oligarchs comes from wielding the savings and quick capital of others," Brandeis wrote. "The fetters which bind the people are forged from the people's own gold."…

Warren is concerned not with saving but with borrowing, not with monopoly but with debt. Since the nineteen-eighties, many Progressive-era and New Deal reforms have been repealed, including a cap on interest rates and a wall, erected in 1933, separating commercial and savings banking from investment banking. In the second gilded age, the fetters that bind the people were forged first from the people's own credit cards and then from their mortgages. Credit-card companies lured borrowers in with "teaser rates." Rates of consumer bankruptcy skyrocketed. Eying the profits made by credit-card companies, mortgage companies began selling an entirely new inventory of "mortgage products," with low down payments, ballooning rates, and prepayment penalties. Home prices shot up, and then they collapsed. "When the housing market sank," Warren writes, "so did America's middle class."…

In 2008, Warren joined a five-person congressional-oversight panel whose creation was mandated by the seven-hundred-billion-dollar bailout. She found that thrilling and maddening, too. In the spring of 2009, after the panel issued its third report, critical of the bailout, Larry Summers took Warren out to dinner in Washington and, she recalls, told her that she had a choice to make. She could be an insider or an outsider, but if she was going to be an insider she needed to understand one unbreakable rule about insiders: "They don't criticize other insiders." That's about when Warren went on the Jon Stewart show, and you get the sense that, over that dinner, she decided to run for office…

Warren is also smart enough to use the conventions of political biography, old and new, to insist on the existence of a relationship between caring for other people and caring about politics. Her brief is really about the abandonment of children, not by women who go to school or to work but by legislatures and courts that have allowed the nation's social & economic policies to be made by corporations and bankers. Writing about her children and grandchildren—rocking that baby—is more than the place where Warren leaves Brandeis behind. It's an argument about where our real debts lie.
***********
What's on the agenda for the start of another week?