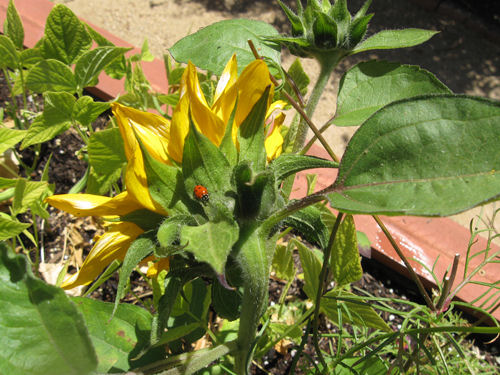 An update from MaryG and Higgs Boson's Mate:
After almost giving up on gardening following the demise of many of my seedlings and succulent puppies during two horrible Santa-Ana-wind-fueled heat waves that brought temperatures up to 100 degrees, Higgs Boson's Mate and I are back at it. There is no more room in the back yard, so he built me a raised bed with arbor for the driveway:

He learned how to cut curves in wood and did the arched sides at the top. Then he used the remnants to make little aprons for the bottom. He is turning into quite a craftsman. We just planted tomatoes and herbs in it, with some pole beans at the back. I know all my plants are far too close together, but I have a good 25 years of frustration at not being able to garden to work out. I figure the plants can fight it out. Market forces at work!

The things I planted in the first two raised beds didn't go as well as I would have liked, because I planted them a bit too early, and a tree grew too fast and shaded them too much. I did get some great miniature sunflowers going:

That one has been and gone, but I was so happy with the way the picture came out I had to include it. I have planted more seeds of another variety there and hope for a better second crop. Though I am not good at thinning out, I did realize that they were much too close together and transplanted some of the lesser-looking seedlings into the second set of raised beds, where they are doing great:

They have attracted a whole swarm of these good guys (see picture at top).

Yay! There are a lot of ants around here and I was afraid they would start farming aphids, but not with the ladybug crew at work, I hope.

The last raised bed is growing a bit of Japanese ornamental corn:

It is supposed to have green and pink stripes in the leaves, but only a few came out like that, and don't really show up in the photos. Still, it is very healthy and supposed to be good to eat. We will have to get the ladder out to harvest it, though.

I wanted to share a few sites on Etsy and Ebay where I have gotten some great seeds at great prices. It seems there are a lot of people who collect non-GMO, heirloom and organic seeds as a hobby or a sideline to their farm, and will sell a small amount for as little as a dollar. They come in tiny plastic bags I used to assort with crack cocaine, with labels showing varying amounts of information about the plants on them.

This person is awesome: ALLooABOUTooSEEDS . He or she has seeds of everything in the world, from cactus to bonsai trees and all manner of herbs, flowers and vegetables. His seeds look very healthy and almost everything I have gotten from him and planted has come up. Some then died because I was lying in bed in front of my fan cursing the Koch brothers and worrying about the wildfire that started across the freeway from the nuclear plant, but I have replanted them and if we just get our usual June gloom this month, they should do well. He charges the same shipping and handling – I think it was $2.50 – no matter how many seeds you buy from him.

Ditto for this seller: FLOWER AND VEGETABLE SEEDS. I think everything he has is a dollar. Shipping is also the same for any number of packets and he ships really fast, too.

For zone 10-11 or greenhouse people, or someone who wants something no one else has and can bring plants indoors for winter, there is SmartSeeds. Her seeds are more expensive than most, more like $1.99 and up, but she has things I have never seen before. She also charges a fixed rate for shipping. She has a great philosophy:

I come from a long line of gardeners. A hundred years ago, this town was my great-grandfather's lemon ranch. Now it's home to six colleges, all landscaped with awesome plants. Claremont calls itself The City of Trees. It's like a zoo for plants.

I live on the family homestead. The garden's far bigger than the house and is always out of control, just the way I like it. There's always plenty to share. I share seeds with gardeners all over the world. If you live in Qatar or Vanuatu or New Zealand, I want to know about your garden. One man's weed is another man's awesome exotic.