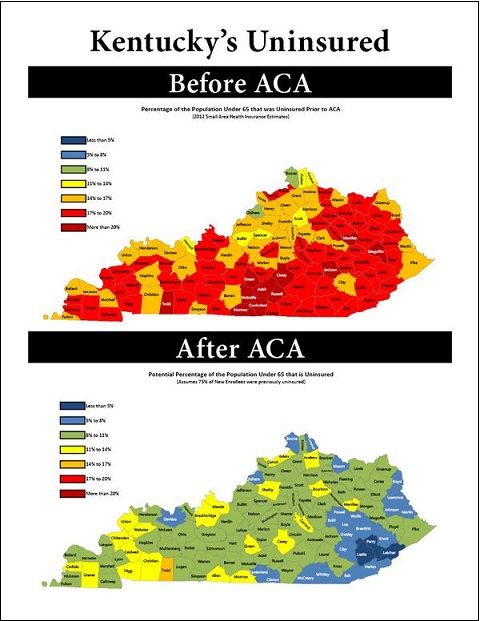 This is a graph (via Benen) that Rep. John Yarmuth used in a floor speech this week. It shows the change in the percentage of uninsured in each county in Kentucky. Then there's this:
Ms. Grimes has shown no inclination to run as a liberal, though. She has dodged questions of whether she supports the Affordable Care Act, and was similarly evasive when asked recently if she supported Mr. Obama's request for funds to ease the border immigration crisis.

Both candidates are running essentially a one-note campaign.

Ms. Grimes's campaign has focused narrowly on the theme that Mr. McConnell has lost touch with Kentucky in his 30 years in Washington. "One of us represents the past, one of us represents the future," Ms. Grimes shouted, pointing a finger behind her at Mr. McConnell.

The senator is running an equally narrow and safe campaign. He is doing his best to join Ms. Grimes to the hip of the unpopular president. His supporters in the boisterous crowd twirled signs with Mr. Obama's face on one side and Ms. Grimes's on the other. Others wore masks of Senator Harry Reid, Democrat of Nevada, the majority leader.
I don't follow Kentucky politics, so perhaps the Grimes campaign is being smart by dodging Obamacare. Or maybe they're waiting for a few rural hospitals to be pulled out of a sea of red ink in order to show that Kynect/Obamacare benefits more than just the poors. But I don't understand how a political party can expect to be successful by running away from their major achievement of the last 6 years, especially in a race where the other party is building a campaign on telling lies about that achievement.