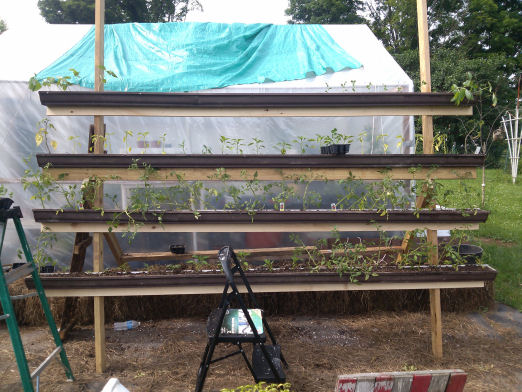 I'm ashamed to admit I just discovered a Garden Chat email from mid-June. Sorry about the delay, commentor XBoxerShorts:
Built this at the urging of my wife. Trying to take advantage of these old gutters I've been holding on to (yes, we're hoarders of a sort) and make efficient use of space.

These are determinate tomatoes and peppers. They don't grow very large and some are already setting fruit. The frame will allow us to add twine supports as needed and this puts about 50 plants in a much smaller area than would normally be needed.

It's full southern exposure which is very welcome here in hilly and rural Northern PA. I was surprised at how well the soil is holding moisture, considering it's full southern exposure.

The second pic is our garden guard, Valley Girl, hard at work….
***********
What's going on in your gardens this week?
* * * * *
Special notice: Happy birthday & many happy returns to star commentors SiubhanDuinne, Omnes Omnibus, and Cassidy!