Recycling an old image because I love it so: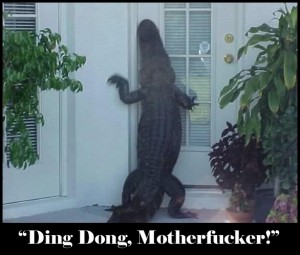 That's just so fucking Florida. True story: shortly after my snowbird in-laws moved to an Active Senior Lifestyle CommunityTM down here, they discovered a smallish gator — two or three feet long — lurking next to where they keep their trash cans.
They called the community services people, but the bubbas manning the phones just laughed when informed of the gator's size and told them to handle it themselves since it was barely more than a lizard.
So my father-in-law and a couple of neighbors maneuvered the gator into a garbage can, slammed the lid shut, bungee-corded the can to a golf cart and transported the wee gator to a nearby swamp, where it was freed. It was a lucky critter; a trapper might have turned it into a clutch-purse.
Anyhoo, open thread.