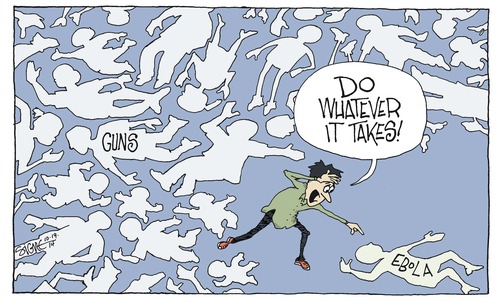 Good news, from the NYTimes:
At least one chapter of the Ebola saga neared a close Sunday, as most of the dozens of people who had direct or indirect contact here with Thomas Eric Duncan, the Liberian man who died of Ebola, had been told by officials that they were no longer at risk of contracting the disease…

All of those whose monitoring was coming to an end had been potentially exposed to Mr. Duncan before he was admitted and put into isolation at the hospital on Sept. 28. They have been released from monitoring in stages. At least 14 of them had been released by Saturday. Others were released Sunday afternoon and some, like Ms. Troh, were released midnight Sunday. A few others may be released after Monday, officials said.

"It's a significant hurdle for us to get over," Mayor Mike Rawlings said. "It brings a little bounce in our step, because we know the science is working."…
And, per NYMag, the hospital lab worker who went on a Carnival cruise has tested negative for the virus. The BBC reports:
The Spanish nurse who became the first person to contract Ebola outside West Africa has now tested negative for the virus, the Spanish government says.

The result suggests Teresa Romero, 44, is no longer infected – although a second test is required before she can be declared free of Ebola…

Meanwhile, European foreign ministers are due to meet in Luxembourg on Monday to discuss how to strengthen their response to the threat posed by the spread of the Ebola virus.

European nations have committed hundreds of millions pounds to help the West African nations of Liberia, Sierra Leone and Guinea reinforce overstretched healthcare systems and mitigate the damage Ebola is doing to their economies.

But BBC Europe correspondent Damian Grammaticas says there is a growing realisation that there is an urgent need for more medical and military teams to be sent to the region, and for more laboratories and hospital facilities to be built.

He adds that the aim to isolate the virus – not the nations affected.

Meanwhile, the World Health Organisation is expected to declare Nigeria to be officially free of Ebola later on Monday, after six weeks with no reported cases… Senegal has already been declared free of the disease.
Also too, commentor & medical lab professional LAMH36 has volunteered to answer questions tonight at 8pm EDT.
***********
Apart from quietly unbunching some panties, what's on the agenda as we start another week?