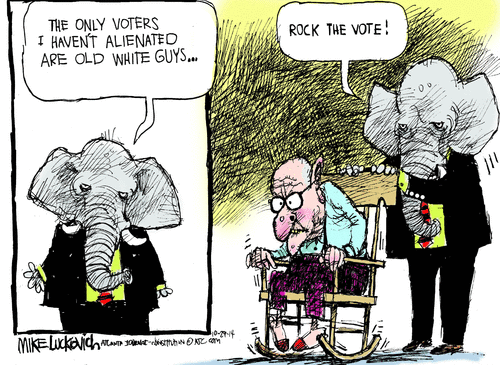 (Mike Luckovich via GoComics.com)
I scored eight out of eight in Gail Collin's Election Day pop quiz, which may explain why I haven't been feeling very positive about politics recently.* This article helped, though:
MILWAUKEE — "The president was the only one who could get me out here," said Gloria Malone, a 50-year old home health care worker. "Before that, I was like: The hell with Mary Burke!"

Malone was pressed against more than 3300 people who'd come to Milwaukee's North Division High School to see Barack Obama make one of his few 2014 campaign trail stops. Like most of the crowd, she was African-American, and had backed the president every time he appeared on the ballot. She was well aware that less-unpopular surrogates, like First Lady Michelle Obama, had trekked to the state even though gubernatorial candidate Burke has avoided nationalizing her race.

Then the presidential visit was announced, and Malone cast an early vote for Burke against Republican Governor Scott Walker, who Burke has fought to a tie in the polls.

"It's important to see her up there with our president," said Malone. "We're running Walker down. The Republicans lost this election when they tried to stop black people from voting."…
*To quote Ralph Bakshi's Aragon: "Then we must do without hope. There is always vengeance."
***********
Apart from making it through next Tuesday without committing a felony, what's on the agenda for the weekend?