My office assistant Lovey sound asleep on my arm while I work: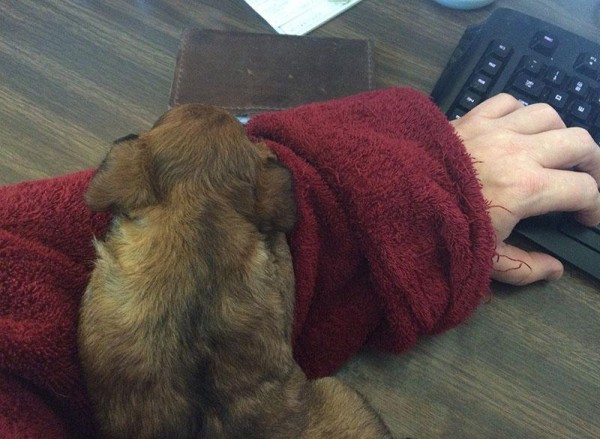 Naptime is quite a procedure these days.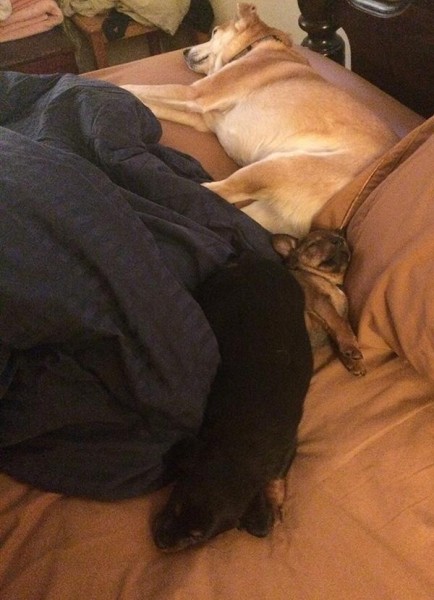 Rosie is underneath the covers, Ginger is underneath the bed hiding from her puppies, and I am relegated to about a quarter of the bed. The puppies are now to the stage where they bitch if they are not included with the other dogs, so they are now napping in the bed. I'm going to start crate training them this week, with set hours (10pm bedtime, 7 am wakeup) so it will be easier on their forever home families.
No pics of Ginger because she is not feeling very sociable, as she is still recovering from her surgery and a little tired. Plus, the puppies keep tryingto nurse and she simply has no milk left, so she is avoiding them. I had to cancel her appointment today and we will go to the doggie spa on Monday.
As soon as I can get it on video, I will have some puppies on Steve sparring action. He is such a champ- so gentle with them. Just lies on the ground and baps at them as they attack him, and he never uses claws. When he gets tired, he stands up and shakes them off and climbs his cat tree.