Been a long day for everyone. Took the puppies and Lily to the park with Holly, but there were too many people oohing and awwing to get any good pictures. At one point, one of the town dogs, Toby, this aged old fellow who is the gentlest dog on the planet came around, and I said hi and gave him his pettings, but Lily got her ruff up and started going after him any time he got anywhere near the puppies. She was not having any of him being anywhere near her adopted puppies. When he walked away, he sniffed Thurston, who gutless wimp that he is, ran squealing the length of the fire house and tried to climb a drain pipe and sat at the base whining looking terrified. Lovey just stood her ground and sniffed him back.
At any rate, after Toby walked off, Lily went into sentry mode, sat down on her back haunches in between wherever Toby was and the puppies, and did not take her eye off him the entire time. Again, Toby is completely harmless, but Lily can be pretty aggressive towards strangers that might screw up her pack. And don't be fooled, Rosie tries to be the alpha, and is more aggressive and attempts to be more dominating, but everyone in the house takes their cue from Lily. Weird pack dynamics.
Here's a picture of Ginger sleeping on the couch. Weird dog loves to sleep on her back, probably because she used to have a baseball sized tumor on her stomach.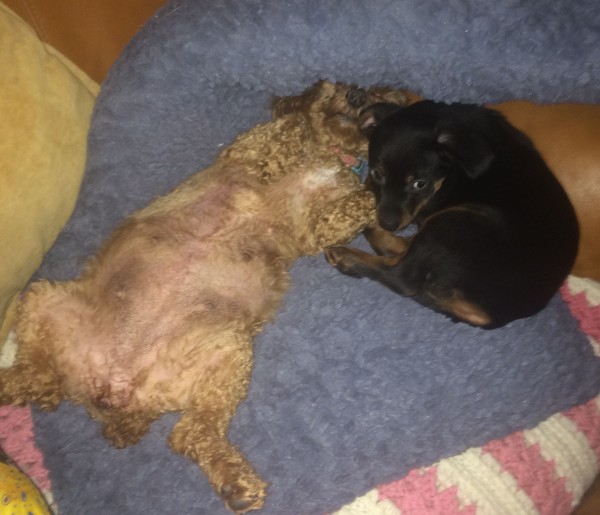 I forget if I have mentioned this, but I have had stairs for the dogs next to my bed for two years, and Lily and Rosie have never ever figured them out. Rosie flat out refuses to try, and Lily is afraid of them and thinks they are some sort of torture device. So, as they have aged, I have to pick up both dogs and place them in bed every night. I was taking a nap a while back, got Lily and Rosie in bed (otherwise they scratch the door and I can't sleep), and I woke up with this warm lump on my head. Thurston, in the few weeks he has been here, has figured out how to open my bedroom door (he headbutts it and thrusts all his weight against it) and then climb into bed using the stairs. He also is quite fond of sleeping on my head. Either with paws on either side of my oversized melon with his belly on the crown of my head, or on the left side of my head with his head resting on my shoulders.
Smart little doggie.