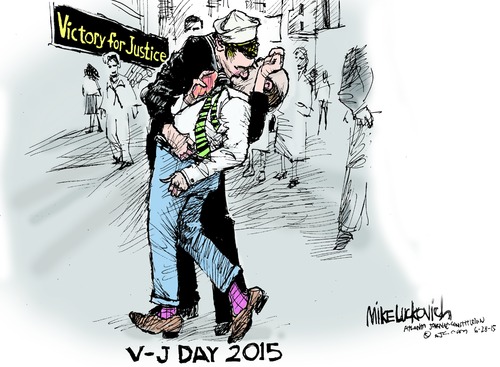 Snarkmaster Roy Edroso rises to the challenge of the young Talibangelicals bemoaning the vile encroachment of human dignity upon their feudalist phantasies:
How goes the rear-guard, dead-ender attack on gay marriage? Hilariously! Have a look at this symposium at Opus Dei strokebook First Things featuring the Douthats of Tomorrow. Say what you will about snake-handlers and desert mystics, there's no crazier Christian than than Christian intellectual; they dress like Chesterton and talk like the Reverend Richard Wayne Gary Wayne. All the symposiasts want to see overturned (or, in Scaliaese, o'erturned) not only Obergefell but also America's sexual freedoms in general. Some have interesting ideas as to how to achieve this. Hadley Arkes, who like many of his compatriots compares Obergefell to the Dred Scott decision (because having to live in a world with married gays is the same as slavery), suggests this:

…it must start with the voice that rings out the depth of the wrong and summons the resistance—that "this shall not stand." We will learn here right away, from the reactions springing from our political class, just who among our political figures may be up the task and adequate to the moment. But it may not be a man in office, or someone running for anything. Rick Santelli, emitting a cri de coeur on CNBC, triggered the coming of the Tea Party movement. A Robert George, with the attention properly focused, might accomplish the same thing.

A Tea Party, only anti-gay! Presumably instead of tricorners and knee-breeches, they'll all dress in Eldridge Cleaver codpiece pants and other affectations of extreme butchness…

Some of them reach back to root causes, none further than Ephraim Radner, who has half decided that democracy itself is inconsistent with his religion:

Second, the vitality and moral usefulness of the liberal state is increasingly in question: has this form of rule by procedural decision-making served its purpose and collapsed under the weight of its own outsized reach? We are perhaps about to enter times of political revolution and re-inventing government analogous to the seventeenth and eighteenth centuries.

Maybe he can mob up with ISIS; really, what's for them to wrangle over except the name of God? …
The comments are also extremely enjoyable, for instance Shakezulu:
Are people going to look up one day, years after the tribes of the Fischerites, the Cruzites and the Duggarites and all the other Shitites have fled into the wilderness, and say "Gee it sure is lonesome now that we don't have any violent, squinty-eyed fascist puds screaming like stuck pigs every time they can't oppress someone. Let's go round up some of those sullen, resentful, morally inferior human-shaped pus pockets and keep them as house pets. Maybe they'll murder a few of us from time to time, like in the good old days."?
MBouffant flags the latest grifting inspiration of Erick Erickson, as reported in Salon:
On his radio show Monday, conservative commentator Erick Erickson argued that the Supreme Court made a grave mistake with its decision to legalize same-sex marriage in all 50 states because "it's not really true" that most of the people who identify as LGBT are "born gay" — they're made gay by "parental issues" and "abuse."

By legalizing same-sex marriage, Erickson reasoned, the Supreme Court is going to increase the size of the homosexual population — because the "collapse" of the traditional, Christian family is "directly inverse proportional or inversely related to the rise in people who identify as gay." The more non-traditional, non-Christian families out there, the more gay people who will be "created" via abuse or parents with "issues."…

"You're going to have to get out of there," Erickson said, "you're going to have quit your job" because federal nondiscrimination statutes will require Christians to treat members of the LGBT community as human beings. Christians will have to form "church communities," in which "parents are more careful who their friends are, and who their children play with."

"You'll have to go" where "the postmodern secular humanists…can't get you," but "they're going to try to get you."

"The further out you go," he assured listeners, "the safer you'll be. I think you're going to see a lot of Christians go back into the handcrafting industry, go back into laboring, go back into farming — because there is something to do in the bible about farming."…

They'll have to do it without him, however, as he said that he will remain behind to act as a "cultural bridge" between these pockets of Luddite fancy and the secular world from which these good Christians fled.
You go on ahead, guys, and I'll man the concessions counter! Might as well leave me to guard your luxury goods, you won't need them in Canaan!… There's audio at the link, if you can stand it.
***********
Apart from the healthful exercise of rolling our eyes (fiercely!), what's on the agenda for the day?