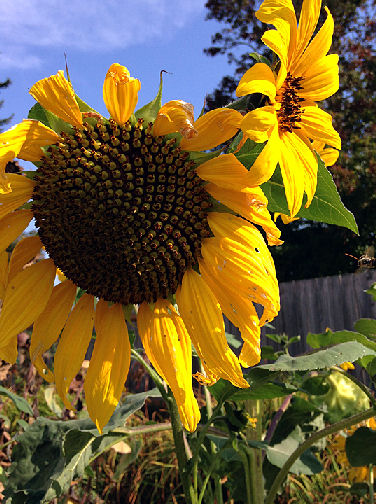 From loyal garden commentor Marvel:
Here in the Willamette Valley, we're enjoying a mild changing of the guard, weatherwise. The Fall & Winter plantings are vigorous and show promise (up to HERE in cabbage, greens, kale & brocolli; shelling peas and cauliflower are making great strides). But in the main, with the shorter days and cooler nights, much of the garden's slowing down — going The Way of All Things. While I love the sights and smells of a new, vigorous garden, I do admire the grace and colors of the garden's natural decline in Autumn.

Despite near-constant care, we lost many battles with the bugs and harvested only a modest apple crop (we'll be making juice for spiced apple jelly later on today). All that's left is a daily under-tree clean-up of ancient, stubborn fruit that escaped/resisted our hands earlier.

The big asparagaus bed has been waving its tall feathery fronds all summer long, gathering energy for next year's early crop. Having apparently drunk its fill of sun, the first show of gold signals plans for its yearly retreat.

The blueberries are taking on their deep red coloration — I think even if they didn't produce great-tasting fruit, we'd love them purely for their beauty.

We've got young lettuce and spinach planted in a cool-season bed, so we've let the Summer greens grow tall and start to set their seed — it's no use trying to eat these bitter things, but the chickens across the way adore them and the worms probably appreciate some kind of undersoil bounty from their presence, so we've been pulling them up only slowly (just enough to prevent them self-seeding the bed).

The sunflowers are all nodding, heavy with seedheads and chickadees. Such a wonderful, Old World feel about these warm weather storehouses.
***********
No leaf-turn here north of Boston, just yet, but I've been putting off what will probably be this year's last batch of slow-roasted tomatoes because we went from a debilitating heat wave into some dank rainy days which triggered my semi-annual bout of labyrinthitis.
This is the season when I put together my notes on the year's tomato crop. Giving each plant more space to root definitely improved overall productivity, and there's a couple new-to-me varieties (Black Ethiopian, Copia) that I'll be adding to my must-have list, along with a couple old standbys I'll probably drop (I thought the Spousal Unit liked Garden Peach, but he says not). Now I just have to remember my resolution about fewer but better plants, come February… although if we can nag the tree-removal guys to come get that godsdamned half-blasted oak tree, I'll have twice as much sunlit ground for the rootpouches next spring…
What's going on in your garden(s) this week?