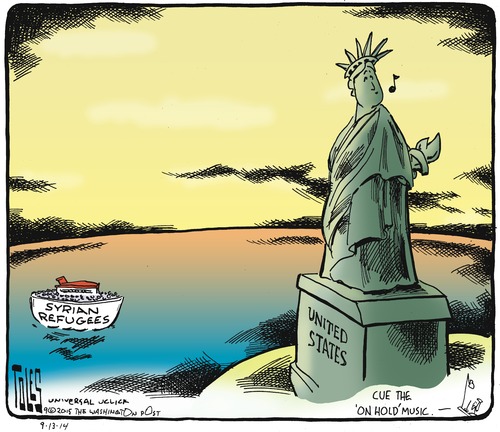 I am no expert on global migration, but I have plenty of experience in telling when the Very Serious Pundits are lining up their narratives. From the Washington Post, "Frustrated migrants blame U.S. for their predicament":
BICSKE, Hungary — If he ever got the chance, he'd settle in the United States, Rzgar Abdul said. But for now, he lives in this spare, barracks-style refugee camp, placing much of the blame for his squalid existence on the United States. After all, the Islamic State proliferated when U.S. forces pulled out of an unstable country. And that proliferation forced him to leave his home, said Abdul, 28, who is from the Iraqi city of Kirkuk.

"Iraq's problem is America's problem," said Abdul, who said he was a translator for the United States during the Iraq war, making him a target. "This crisis is America's problem. In Iraq, Syria, all over, the U.S. did not do enough."

From the squalid migrant campgrounds in Hungary to the offices of Europe's elected officials, many others also saw the swell of migrants crossing borders as evidence of a failed U.S. foreign policy. Even as President Obama declared that the country would extend asylum to 10,000 Syrians, many blamed the United States for the migration crisis that has walloped Europe.

In Germany, it is rare that the distant reaches of the political left and right agree on anything. But they do now: The United States is at fault…
Meanwhile Peggy "Channeling America's Meanest Since the Reign of St. Reagan" Noonan climbs atop her Wall Street Journal soapbox, to explain how "A humanitarian crisis threatens the future of Western institutions" [my emphases]:
What a crisis Europe is in, with waves of migrants reaching its shores as the Arab world implodes…

According to the U.N. refugee agency, 53% of the migrants are from Syria, 14% from Afghanistan, 7% from Eritrea, and 3% each from Pakistan, Nigeria, Iraq and Somalia. Seventy-two percent are men, only 13% women and 15% children. Not all are fleeing war. Some are fleeing poverty. Not all but the majority are Muslim...

Reading the popular press of Europe you see the questions. Do we not have a right to control our borders? Isn't the refugee wave a security threat? ISIS is nothing if not committed to its intentions. Why would they not be funneling jihadists onto those boats?…

Damning "the elites" is often a mindless, phony and manipulative game… But in this crisis talk of "the elites" is pertinent. The gap between those who run governments and those who are governed has now grown huge and portends nothing good.

Rules on immigration and refugees are made by safe people. These are the people who help run countries, who have nice homes in nice neighborhoods and are protected by their status. Those who live with the effects of immigration and asylum law are those who are less safe, who see a less beautiful face in it because they are daily confronted with a less beautiful reality—normal human roughness, human tensions. Decision-makers fear things like harsh words from the writers of editorials; normal human beings fear things like street crime. Decision-makers have the luxury of seeing life in the abstract. Normal people feel the implications of their decisions in the particular.

The decision-makers feel disdain for the anxieties of normal people, and ascribe them to small-minded bigotries, often religious and racial, and ignorant antagonisms. But normal people prize order because they can't buy their way out of disorder.

People in gated communities of the mind, who glide by in Ubers, have bought their way out and are safe. Not to mention those in government-maintained mansions who glide by in SUVs followed by security details. Rulers can afford to see national-security threats as an abstraction—yes, yes, we must better integrate our new populations. But the unprotected, the vulnerable, have a right and a reason to worry…

The biggest thing leaders don't do now is listen. They no longer hear the voices of common people. Or they imitate what they think it is and it sounds backward and embarrassing. In this age we will see political leaders, and institutions, rock, shatter and fall due to that deafness.
Those elitists — That Man in our White House — they're the ones at fault here, Peggy says, soothingly. They don't care if dark-skinned Muslims take over your neighborhood, because they won't have to live amid the terrorists and ayatollahs and non-American-speakers. They don't listen to nice normal folk like you, the common people, because they're too busy talking to each other about their highfaluting one-world-government elitist fantasies. But there's a way to fix that…