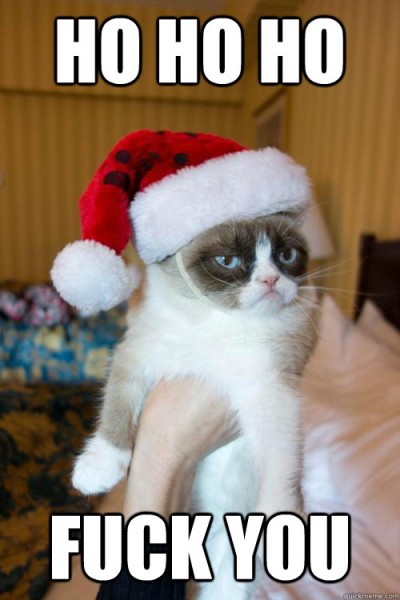 In addition to what Betty said, I think what pisses me off the most about this whole war on Christmas thing is that I dunno if this is already incorporated into atheist already, but I am a LAZY atheist. What I mean by that is I don't think about God. Because I don't think he/she/it exists. Unlike Dawkins and others, I also don't think it's my fucking job to prove to believers that God doesn't exist. I just am happy not dealing with the whole damned mess.
Which explains why I get so pissed off when the Talibangelicals and jeebus freaks drag me into their bullshit when they start trying to run the country in accordance to their religious beliefs, or start bashing on gay people or telling women what to do with their bodies or trashing whomever they have chosen to be the target for their special brand of love this week. So when they drag me into this whole Happy Holidays/ Merry Christmas bullshit, they're demanding that I fucking do something one way or another, and it pisses me off. For me, "season greetings/happy holiday/happy hannukah/merry christmas" is fundamentally no different than "hola/have a nice day/take it easy" or some other standard greeting. It's just a meaningless pleasantry we've become accustomed to saying. So when someone demands I say Merry Christmas it's as stupid as someone demanding I say "Have a nice day" instead of "take care."
It's just stupidity and a pain in my ass. It's just wingnuts finding some other way to put us at each other's throats, and in addition to that, it's someone I don't know or care about forcing me to have to think or do something about something I don't want to think or do anything about.
I just want to be left the alone. I'm a conscientious objector in the War on Christmas.