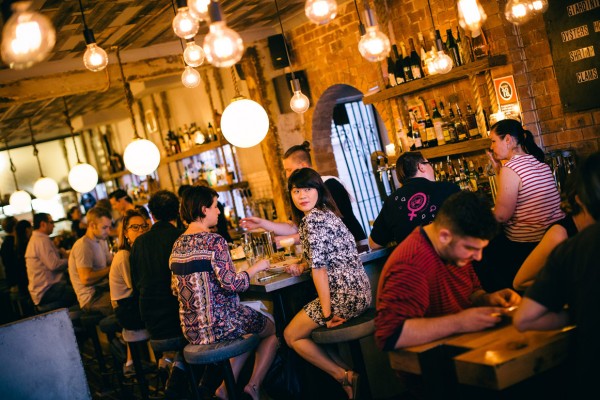 Friday night drinks with my sweetheart. Two Caipirinhas – slightly more tart than I like, but just what I needed after an arsehole of a week. Sweet vermouth (Punt e mes, I suspect) on ice with an olive and a slice of orange for me, and a London Calling for him. A Gretzel with beer and cheese sauce. Tuna crudo with fermented chilli, onion, dill and flat bread. Shots of Tapatio Reposado to celebrate Gregory's birthday. Some concoction with Poor Tom's gin and who knows what else whipped up by Jamie, the adorable Scottish bartender. Two perfect replications of a McDonald's Filet-O-Fish, except crunchier and cheesier and oh-so-much-more-Filet-O-Fishier. An Old Fashioned made with rye, and a Red Hook. Two chocolate chip cookie and blackberry ripple ice cream sandwiches. Whisky from some damp and peaty god knows where, and a spectacular rum from Guyana that tasted of brown sugar toffee, even though we were just a little bit drunk by that point, because Jamie did the sexy eyebrow thing. One taxi home for special snuggles.
Don't mind if I do, thanks.
Drunk posting on Balloon Juice very late at night and oversharing while giving your local a plug.
Life could be worse.
Happy Friday, kiddies. How have you all been?
I should inset some witty comment here about how the evil squirrel that lives in Donald Trump's hair and controls him with little levers connected to steam-driven pistons has been huffing antifreeze and getting his Mexican birth certificate rape babies on, or how our entire political system is even more fucked than Jeb!'s chances of securing the Republican nomination.
But it's time for bed – or maybe another drink.
Seriously though, come to Sydney. Come and see my friends Gregory, Naomi and the rest of the team at the Gretz. They're lovely. And Gregory's American. So you folks will understand what the fuck he's saying.
This is your open thread.
Much love, and fuck you all.
Sarah
P.S. The real me is somewhere in the photo above. It's like Where's Waldo if Waldo was a grumpy, fictional old lady with impulse control issues and a pottymouth.