CNN did a nationwide poll and Trump has 60% unfavorables.  Also, everyone loves Bernie: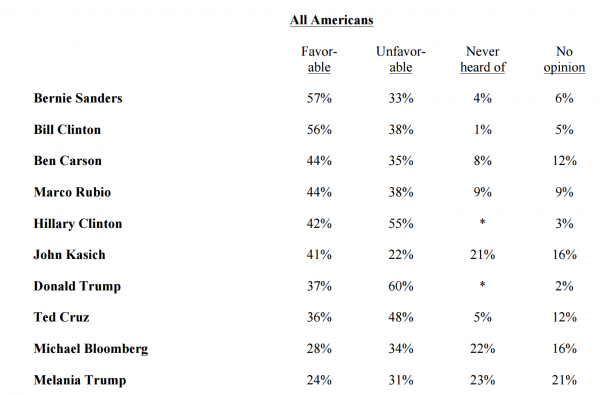 Sanders beats Trump by 12 points, Cruz by 17 points, and Rubio by 8.  Clinton beats Trump by 8, and loses to Rubio by 3 and Cruz by 1.
If it's true that Sanders scores so well in this poll because nobody has really gone negative on him, isn't that also true for Trump?  Rubio just started calling him out for having a small penis a few days ago, and Sanders and Clinton have made a few remarks, but he hasn't endured anything like the treatment that Clinton has been getting for most of her political career.  I can't see that 60 going anywhere but up.
If Bloomberg becomes the Third Man, he hurts Clinton more than he hurts Trump, according to this poll.  That's because the anyone-but-Trump Republicans will pull for Clinton if they must, but someone else if they can.