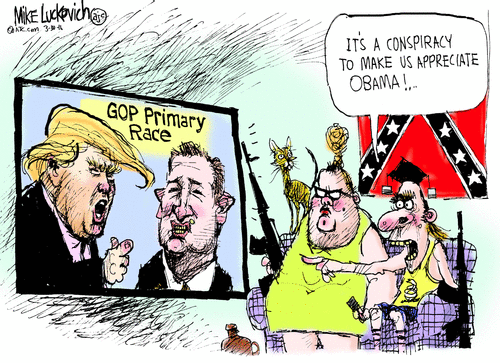 Donald Trump is the odds-on favorite to be the GOP nominee for president this year. Go ahead, April Fool's Day, try to top that.

— Daniel Drezner (@dandrezner) March 31, 2016
Yes, once again we're going to have to grit our teeth and 'celebrate' the favorite holiday for twelve-year-old boys of all ages and genders. While we wait for the Blogmaster to post his favorites, here's the Washington Post with some "terrible history of this garbage holiday":
… How did we get into this mess? We asked Alex Boese, curator of the online Museum of Hoaxes. He says you can blame the Dutch (who first referenced April Fools' in a 16th-century text) or the French (who overhauled their annual calendar in the 1500s, confusing "fools" who didn't adapt). Or maybe the U.K., home of the first April Fools' Day prank on record, or Germany, which popularized fake April Fools' news stories. And certainly the good ol' U.S.A. — because who else would be tickled by the idea of renaming a national monument the "Taco Liberty Bell?"…
***********
While we brace ourselves — how the hell can you tell a Trump or Cruz hoax from the real thing, not to mention anything coming from Reince Priebus? — what's on the agenda as we wrap up the week?