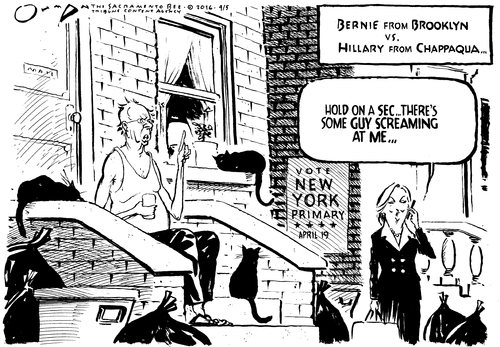 Not sure I'll be able to catch tonight's debate live — not sure it's worth rearranging my schedule for, frankly. But if you want to watch, out of civic obligation or in hopes of a train wreck, here's Vox on how to do so:
Tonight's Democratic presidential debate in New York will air on CNN. But don't worry: If you don't have cable, you'll still be able to tune in. An online live stream will be free and available to all at CNN.com. The debate will begin at 9 pm Eastern…
CNN's current link here [warning: autoplay].
***********
Apart from the ongoing grim march towards November, what's on the agenda for the evening?
Someone should count how many times BS wags his finger & interrupts HRC in tonight's debate #ImWithHer https://t.co/HQgZA2SXPK

— Jim M (@JamesDallas9175) April 14, 2016
If it's a drinking game we're all going to die. https://t.co/S8arCsqEDu

— AlGiordano (@AlGiordano) April 14, 2016