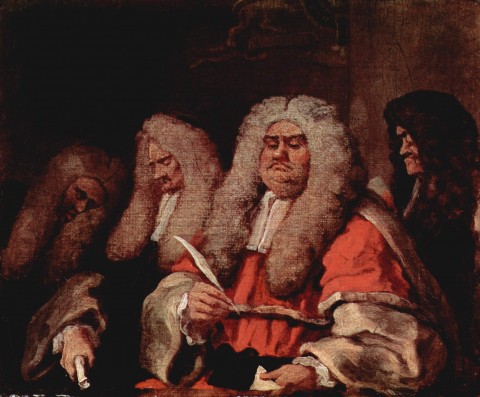 Here's the list of potential Trump nominees,:
Donald Trump, the presumptive Republican nominee for president, has released a list of 11 potential Supreme Court justices he plans to vet to fill the seat of late Justice Antonin Scalia if he's elected to the White House.

Trump's picks include Steven Colloton of Iowa, Allison Eid of Colorado and Raymond Gruender of Missouri.

Also on the list are: Thomas Hardiman of Pennsylvania, Raymond Kethledge of Michigan, Joan Larsen of Michigan, Thomas Lee of Utah, William Pryor of Alabama, David Stras of Minnesota, Diane Sykes of Wisconsin and Don Willett of Texas. Trump had previously named Pryor and Sykes as examples of kind of justices he would choose.
Reading through the TPM comments on the post there on this subject, it seems like we've got some cherce* ones here.
Any of our legal types care to chime in?
*Cherce.
Image:  William Hogarth, The Court,  c. 1758.   I know that I've used this before.  But it's just perfect whenever the topic of GOP jurisprudencerecklessness comes up.