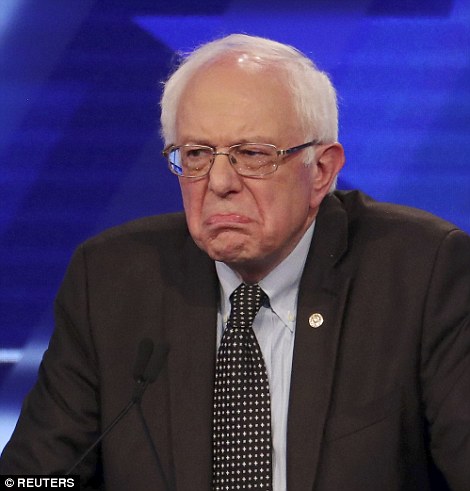 This is how I view things right now. The Sanders campaign at this point is a 7-8 NFL team whose season is over and post-season chances are eliminated playing a 10-5 playoff bound team in the last game of the regular season, and they are playing the first string and trying to injure the playoff bound team. Even worse, they are still losing and blaming it all on the refs. That's why I'm so irritated by the nonsense.
And as Josh Marshall notes, it comes from the top:
For months I'd thought and written that Sanders campaign manager Jeff Weaver was the key driver of toxicity in the the Democratic primary race. Weaver has been highly visible on television, far more than campaign managers tend to be. He's also been the one constantly upping the tension, pressing the acrimony and unrealism of the campaign as Sanders actual chances of winning dwindled.

But now I realize I had that wrong.

Actually, I didn't realize it. People who know told me.

Over the last several weeks I've had a series of conversations with multiple highly knowledgable, highly placed people. Perhaps it's coming from Weaver too. The two guys have been together for decades. But the 'burn it down' attitude, the upping the ante, everything we saw in that statement released today by the campaign seems to be coming from Sanders himself. Right from the top.

This should have been obvious to me. The tone and tenor of a campaign always come from the top. It wasn't obvious to me until now.
Steve M. goes one further and predicts not only will he not ramp things down, he will not endorse HRC and will not work to elect her:
When I watch Sanders now, I don't see a typical politician whose contempt for an opponent is a big act. The contempt Sanders feels for Clinton and the Democratic establishment is now bone-deep. It's classic male anger, rooted in outrage at being disrespected.

So I'm predicting that Bernie Sanders won't endorse Hillary Clinton. He's going to fight to the last primary, then he's going to try to twist superdelegates' arms, then he and his people are going to demand a platform that resolves every disagreement between himself and Clinton in his favor. And when the platform fails to repudiate the party's nominee on every point of disagreement, he's going to walk. At best, he'll offer a pro forma endorsement, maybe not until well after the convention is over, and then he'll sit out the general election campaign. Because this is personal for him. He believes the Democrats won't win if he's not the nominee, so he does no damage by withdrawing from the fray. It's all the fault of Clinton and the party establishment if she loses.

She is a weak candidate, and the party did try to grease the skids for her, but Barack Obama faced the same situation in 2008 and just put his head down and overcame the odds. And the ideas and voters Sanders represents should be in the tent — but at this point I think giving vent to gut-level anger means more to Sanders than either a Democratic victory in November or a partial win for his movement, with the possibility of greater victories to follow. He thinks he's been screwed. And someone has to pay.
The press release yesterday from Team Sanders confirmed that for me:
"It is imperative that the Democratic leadership, both nationally and in the states, understand that the political world is changing and that millions of Americans are outraged at establishment politics and establishment economics. The people of this country want a government which represents all of us, not just the 1 percent, super PACs and wealthy campaign contributors.

"The Democratic Party has a choice. It can open its doors and welcome into the party people who are prepared to fight for real economic and social change – people who are willing to take on Wall Street, corporate greed and a fossil fuel industry which is destroying this planet. Or the party can choose to maintain its status quo structure, remain dependent on big-money campaign contributions and be a party with limited participation and limited energy.

"Within the last few days there have been a number of criticisms made against my campaign organization. Party leaders in Nevada, for example, claim that the Sanders campaign has a 'penchant for violence.' That is nonsense. Our campaign has held giant rallies all across this country, including in high-crime areas, and there have been zero reports of violence. Our campaign of course believes in non-violent change and it goes without saying that I condemn any and all forms of violence, including the personal harassment of individuals. But, when we speak of violence, I should add here that months ago, during the Nevada campaign, shots were fired into my campaign office in Nevada and apartment housing complex my campaign staff lived in was broken into and ransacked.
That was not a condemnation of violence and the behavior of his supporters in Nevada. That was an excuse for why they behaved the way they did- "Nice party you got there, it would be a shame if anything happened to it." I'm surprised he didn't include "I only hit you because I love you so much." And it is all predicated on a lie.
They did not get screwed in Nevada. Hillary won the popular vote, didn't organize well enough in the first caucus nonsense, and then came strong over the weekend. This was all about defying the popular vote and trying to use the system to squeeze out a couple more delegates. And it was thwarted, and now they are throwing a tantrum and screaming that the system they tried unsuccessfully to game is rigged.
@Johngcole Bernie's down 4 games to 2 in the series, but demands game 7 be played anyway.

— M. Springchicken (@marcusechavez) May 18, 2016
But this should not be surprising. This is what the campaign and Bernie have been doing for months. The Bernie coalition is young, naive newcomers, grizzled old progressives with longstanding issues with Clinton and the DNC, and independents who have no real allegiance to the Democratic party. It's very easy to lie to the young and the independents, who simply don't know better and haven't been in the political process and know how primaries and caucuses work, and the middle group are the nihilists who think we need a revolution and are still kvetching about the fact that Obama didn't give us single payer.
That's why these people can convince themselves that closed primaries for the Democratic nominee (where Bernie loses) are undemocratic while the actually very undemocratic caucuses (where Bernie wins) are the people's will. That's why they think polling about the general election is what matters when choosing a nominee, and not who the people actually voted for (at this point, three million more have chosen Hillary over Bernie).
It's why they can, with a straight face, argue that the SuperDelegates are evil and undemocratic, and then argue that they should switch to Bernie even though he has fewer votes, fewer earned delegates, and not realize that what they are proposing would be stealing the election from Hillary and giving it to the loser. Because that is the Sanders team argument. I'm not making that up . That is their plan.
That's why they think trying to snag a few delegates in Nevada in an attempt to minimize the popular vote choice and being thwarted is a coup led by none other than the odious DWS. It's a coalition that Bernie and Weaver and Devine are lying to daily, and half of them don't realize they are being lied to and the rest just don't care.
I'd like to think I am just being my normal, pessimistic, hyperbolic self, but I've seen enough people in the Bernie camp acting this way that I really do think that Sanders, much of his campaign, and a lot of his voters are ready to burn the whole thing down. Or Bern it down, if you will.
*** Update ***
This came across my FB feed five minutes after posting this, and not in reaction to this post. This is what we are dealing with, and it is the fault of Bernie Sanders.