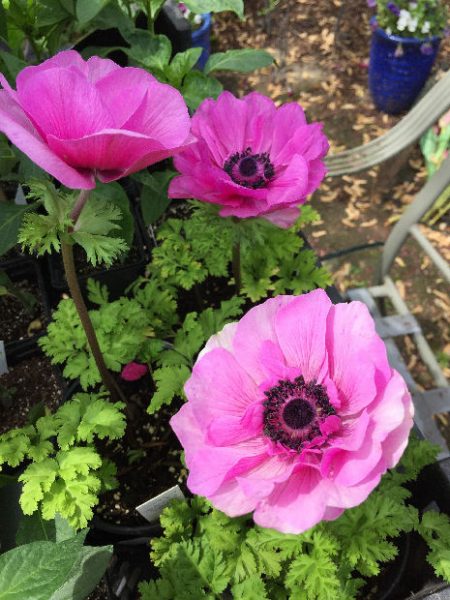 From faithful commentor Watergirl:
Growing up, we lived in a double apartment above the local tavern my parents owned. If you walked a block in one direction you were at the Burlington Northern train station, with blocks of small retail stores; if you walked a block in the other direction there was a huge parking lot, and the residential neighborhood started on the other side of that. Houses with back yards, small yards and big yards and trees!

We played on the sidewalks in front of the tavern and on our roof, playing jump rope and dancing to the soundtrack from West Side Story. I remember cool summer nights where we would get in our little shortie pajamas and our dad would bring out our little portable TV and plug it in through the window in the den, and we would watch baseball or movies and snuggle up under our little blankies.

How does this fit into a garden chat? My mom loved flowers and we had flower boxes on the roof, petunias mostly. But once we all went away to school, my mom got the gardening bug for real – maybe it's because there were no kids playing on the roof anymore – and my mom turned the whole rooftop into a glorious rooftop garden.

The flower bug didn't hit me until I was 30, so I didn't really appreciate what my mom did, but whenever we came home from college the first thing she wanted to do was show us the flower garden. We would sigh and roll our eyes while my mom took us around the roof and showed us everything she had going on.

They featured her garden in a big spread in the local paper – the headline read: Blossom flowers the rooftop. (My mom's name was Blossom, but you probably figured that out already.) I found myself thinking about that this morning, wishing I had been more appreciative of her beautiful garden.

Some of you may recall that my huge silver maple tree fell 3 years ago. It did a ton of damage to my house, wiped out more than half of my yard, and suddenly turned my previously shady backyard into a blazingly sunny area with brutal sun all day long.

That happened on May 31, 2013. Three and a half years ago. It sounded like the world was ending when the tree crashed. At first I thought it must be a tornado because it sounded so loud. Then I thought it was an earthquake because the entire house was shaking. Finally I heard the sound of rushing water, went to the back of the house and saw the tree limb impaled straight down over my bed.

Then another tree in the back yard caught fire because my tree had hit the transformer, and I worried much of the night that my house would go up in flames.

The fire fighters wouldn't let me go into the back yard, so I couldn't see any damage until the sun came up the next morning. In the first light of dawn, I went from window to window, looking out to survey the damage. 'Holy fuck' I said at the first window. 'Holy fuck' I said at the second window. 'Holy fuck' I whispered at the sliding door where the bulk of the huge tree was inches away from me, on my deck.

I spent the first summer just trying to keep everything alive in the brutal sun while I dealt with all the house repairs. I worked so hard that next summer (2014) to move the things that had to be moved and to start to fill in the areas that had been destroyed. I redoubled my efforts the following year (2015) because I really wanted to have a (sort of) finished back yard again by the 2 year anniversary. hah! That wasn't happening.

So we finally come to this year and the back yard finally feels like it's mine again. There only reminder of that summer of disaster and the beautiful tree I lost is the tree ring that sits at the front of my house. The tree that the arborist had called "the matriarch of the neighborhood"; there when the house was built, watching over the house for all those years, now sheltered under the carport where the house now looks over the ring from my tree. We've come full circle, and it makes me happy to see it there.




The garden is filling in nicely, and I had a screened-in porch built this summer so I can finally enjoy being outside again without having to be in the brutal sun. My porch and garden are a celebration of life, and I am so appreciative of the unseasonably warm days we are having.

I thought I might share some before and after photos: photos from when the tree hit, some brightly colored flowers from earlier this summer, and some photos I took today of flowers that are still blooming and are relatively happy, even though it's already November.

I like to think that my mom would forgive her three daughters for our rolled eyes and sighs when all she wanted to do is show us her lovely rooftop garden. She would have loved our Sunday morning garden chats.
***********
What's going on in your garden(s), this week?