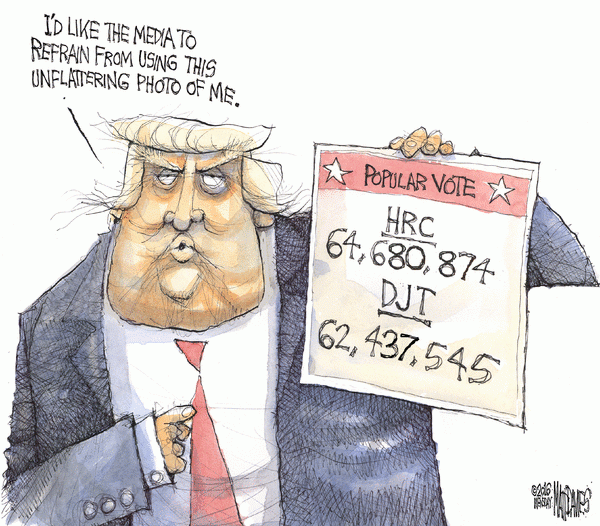 In NYMag, Kat Kinsman has "A Post-Election Action Plan for Anxious People":
… The worst happened. More will happen. All the magical thinking and proactive worrying in the world didn't prevent the outcome of this election, and letting it attack me from the inside is not a viable solution, not if I want to spend the next few years anywhere other than under my increasingly pilling comforter. So I've come up with a coping plan. Maybe it'll help you, too.

Set a stretch alarm. When I'm in a panic spiral, I'll find myself in sharp, shocking pain, then realize I've been gnarled up in startle position for several hours. Before the election, it got so bad that I set a reminder on my calendar to stand up and breathe deeply a few times a day. It's painfully easy to forget to do, and the simple (and totally free!) act of drawing in breath can knock me out of a terrible thought loop and help me move forward with purpose.

See friends in person whether you feel up to it or not…
Also, don't see people you don't want to…
Step away from the internet…
Get some sleep…
Take meds if you need them…

Pick one cause. You cannot go on every single protest march, make every call, sign every petition, sway every politician. Commit to selecting one cause and making it your big mission, or finding one little thing to do every day. A letter or phone call to a legislator, an hour volunteering, a couple of bucks to a cause, or a check-in on a friend living in a place where they may not feel safe. It might feel small. It will keep you sane.
Read the whole thing, it's not very long, and Kinsman's reasoning seems very sound.
***********
Speaking of taking one step at a time: Longtime commentor Jenn suggested we initiate a Friday Progress Open Thread, which seems timely (and doable, for me). Got suggestions as to where each of us individually can make a difference? Want to brag a little on your own progress? Leave a comment here (or email me at annelaurie dot verizon dot net) and I'll set up the first POT this Friday.
One suggestion, right now: It's not too late to donate to Foster Campbell, the Democrat in Louisana's December 10th runoff election.
Apart from all that, what's on the agenda for the new day?