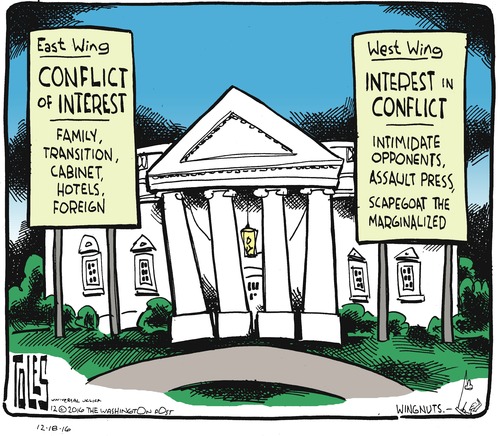 A laudable but minor step. The big question is what he does to avoid the appearance of any conflict of interest with the Trump Organization. https://t.co/RUynYvz3cl

— Daniel W. Drezner (@dandrezner) December 24, 2016
In case you missed this latest attempt to obfuscate Trump's rampant criminality, over the holiday. The Washington Post takes a well-deserved victory lap:
President-elect Donald Trump said he plans to shut down his charitable foundation, a decision that comes after repeated controversies over how it collected and disbursed funds.

In a statement Saturday, Trump offered no timeline for when his foundation would close down but said he had directed his attorney to take the steps needed to close it. It was not immediately clear when the foundation would be able to dissolve, given an ongoing investigation in New York…

The Donald J. Trump Foundation has come under intense scrutiny this year after a series of reports in The Washington Post detailing its practices, including cases in which Trump apparently used the charity's money to settle lawsuits involving his for-profit businesses.

New York's attorney general has been investigating the charity after some of these reports, and a spokeswoman for that office said the foundation could not officially shut down until that probe is over…

Schneiderman's office is also investigating the Trump Foundation after reports in The Post describing apparent cases of self-dealing that date back to 2007. The Trump Foundation spent $30,000 to buy two large portraits of Trump himself, including one that was hung up in the sports bar at a Trump-owned resort. Trump also appears to have used $258,000 of his foundation's money — legally earmarked for charitable purposes — to settle lawsuits involving two of his for-profit clubs…
***********
Apart from beseeching Murphy the Trickster God for this to be the millipede's worth of shoes that trips up the President-Asterisk, preferably before January 20, what's on the agenda for the day?
.
Eric Trump: GIve me money and I'll give to St. Jude
America: I'd rather just give directly to St. Jude
Eric: Why do you hate sick children?

— Wyeth Ruthven (@wyethwire) December 23, 2016
Based on what's been reported, I count at least four lies/misleading statements in here. See if you can spot them. pic.twitter.com/cbWPrkuEwx

— Matt Pearce (@mattdpearce) December 27, 2016
As I (and others) wrote, this just isn't true. A large chunk of money went to advance Trump's political prospects https://t.co/J1nCG82iCn https://t.co/NHMEzMviOc

— Rebecca Berg (@rebeccagberg) December 27, 2016
Backstory on Trump Fdn. It appeared to violate laws by buying portraits of him, paying to settle his biz's lawsuits. https://t.co/MCDKWiTqNx https://t.co/GXlpVgND4T

— David Fahrenthold (@Fahrenthold) December 27, 2016