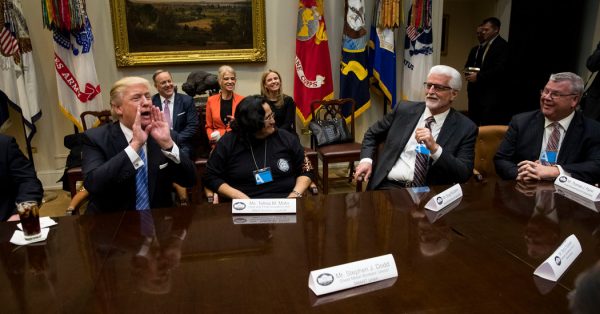 The White House did not comment on the meeting, but Mr. Spicer affirmed in his press briefing that infrastructure remains a high priority

Mr. McGarvey and Terry O'Sullivan, the general president of the Laborers' International Union of North America, stressed to reporters their satisfaction at meeting with the president so soon after the inauguration. They said they went the entire Obama administration without being invited to a similar meeting.

(Some building trades leaders attended meetings with a broader cross section of unions at the Obama White House.)

Both groups endorsed Hillary Clinton for president in 2015, but their presidents were effusive in praising Mr. Trump's knowledge of the building and construction industry.

"We have a common bond with the president," Mr. McGarvey said. "We come from the same industry. He understands the value of driving development, moving people to the middle class."
Even though most unions endorsed Hillary, union support for Hillary declined:
Trump's depiction of who those voters were centered on two broad archetypes: Veterans and displaced factory workers. There isn't good polling on the former, but it overlaps with the white, non-college-educated men who made up a significant part of Trump's base. In one formulation of the latter, union members, we have data from exit polling. In union households (that is, households in which someone was a union member), Trump trailed Hillary Clinton by only 8 points, a substantial improvement from how Mitt Romney did in 2012.

In fact, it was the best margin for a Republican since … 1984, the election that gave Reagan his second term.
Via Deadspin, here's your reward, blue collar whites:
The Washington Examiner reports that tomorrow, Republican Congressmen Steve King and Joe Wilson will introduce national "right to work" legislation. A quick primer: "Right to work" laws (or "free rider" laws, as unions see them) allow workers in unionized workplaces to get the benefits of a union contract without having to pay union dues. Currently, just over half of the states in the country—including the entire South—have statewide "right to work" laws, and union membership tends to be much lower in those states, because the ability of people to opt out of paying union dues just because they don't feel like it makes it harder to maintain strong unions, and can be financially crippling. (A union might, for example, negotiate a contract covering 500 workers, only to see half of them take the benefits of the contract and then not pay anything to the union. It's a tough way to survive.) Is it still possible to have unions in "right to work" stat? Yes.

A national "right to work" law would be the Holy Grail of right wing anti-labor forces who have despised unions for decades. There is no law that would be more detrimental to union membership. You need only look at the state-by-state union membership numbers to see how bad it could get. It's not going overboard to imagine national union numbers could fall by half in short order. Unions would still exist, but they would have to work immeasurably harder to maintain their financial stability and relationships with members. All legally enshrined stability would be gone. Such a law would make every workplace in America an uphill battle for organized labor. And since unionization is one of the only things that average workers today can do to improve their economic position, this would undoubtedly exacerbate economic inequality, increase the power of corporations over their employees, and make it harder for Americans to have any hope of a middle class lifestyle. So it will naturally be endorsed by Donald Trump, our "blue collar billionaire" prez who loves the common man!
The only upside I can think of this is that fewer of these jackasses will be able to afford their giant vehicle penis pick-em-up trucks tailgating me with their lights in my mirror. If you own a pick-up truck and it doesn't have farm use on it or a shitload of dents or something hitched to it, you're just an asshole. There's a lot of assholes out there. Soon to be driving Kia's.