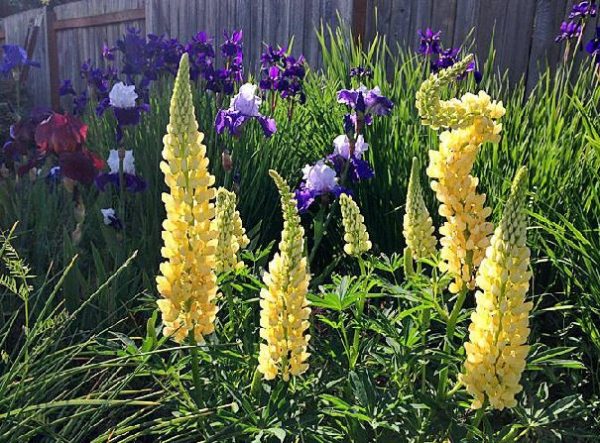 From irreplaceable garden commentor Marvel:
The lupines are positively ROCKETING into bloom!
***********
Here north of Boston, we're at peak rhododendron/azalea bloom — lots of fuchsia in people's yards, because rhodies love our acid soil. The iris season seems to have been brief and abortive; guess they didn't like going from 70F-degree days to frostbite to 90F-degree days to a month of cold rain. Even our unkillable purple species irises, which have been known to flower as early as mid-February, put on a short and scanty show this year…
The rest of my mail-order tomatoes arrived, so I'll be spending today (and probably the rest of the week) transferring 32-gallon bags of fresh potting mix into 15gal rootpouches, mixing in fertilizer and SoilMoist, and planting out my 'bounty'. Yes, it takes longer because I'm old and fat and have a bad back and a bum knee. Good news (I keep reminding myself) is that it's easier than ever to be a gardener today, even with all my physical limitations.
I did finish cleaning out one flower bed, and transplanting annuals to edge it. But now I can't put down new mulch until the rose bushes I want to bed out there (because hope springs eternal) show up from the Oregon grower. They were supposed to arrive no later than last Friday, but that's when the big tomato order showed up, so I didn't get around to complaining yet…
What's going on in your garden(s) this week?