On the Road is a weekday feature spotlighting reader photo submissions.
From the exotic to the familiar, whether you're traveling or in your own backyard, we would love to see the world through your eyes.
Good Morning All,
This weekday feature is for Juicers who are on the road, travelling, etc. and wish to share notes, links, pictures, stories, etc. from their escapades. As the US mainland begins the end of the Earth day as we measure it, many of us rise to read about our friends and their transient locales.
So, please, speak up and share some of your adventures, observations, and sights as you explore, no matter where you are. By concentrating travel updates here, it's easier for all to keep up-to-date on the adventures of our fellow Commentariat. And it makes finding some travel tips or ideas from 6 months ago so much easier to find…
Have at 'em, and have a safe day of travels!
Should you have any pictures (tasteful, relevant, etc….) you can email them to [email protected] or just use this nifty link to start an email: Start an Email to send a Picture to Post on Balloon Juice
Please hold on to your pictures for now as we're about to launch a new submission form to improve this whole process. Thanks for your patience.
Today, From Mary G, a great story with pictures.  Thanks Mary – do send more!
Last week I took my first vacation in probably 12 or 15 years when my housemate, Karla, invited me to go on a Carnival Cruise with a large party of her relatives, representing four generations, and some other friends. The first picture is of our ship, Miracle. It left from Long Beach right next to the Queen Mary. I hadn't seen the QM since right after it came to California and remember it being huge, but it was dwarfed by the cruise ship. I was going to pay extra for a single cabin, but she said no, they had a bunch of doubles all on the same corridor, and six of the younger members would triple up so that great-grandpa and I could both be solo. My handicapped-accessible cabin was huge, with room to store both a foldup manual wheelchair and a scooter, and a large bathroom full of bars to hold.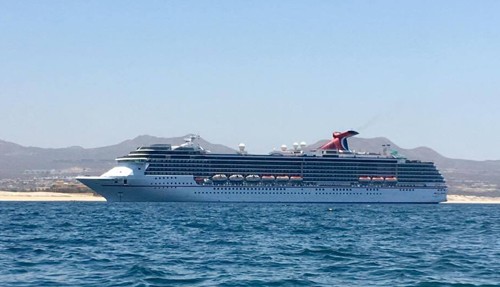 Our first stop was Cabo San Lucas, where there is no pier for a big ship, so you have to go ashore on these littler boats called tenders, and you must be able to walk to get into it and can only bring a folded wheelchair. When we got there, the bay was full of jet-skis and parasails and it looked like fun. I was doubtful about the tender, but the next morning the point was moot, since the remnants of a hurricane somewhere had arrived and the beaches were all closed and the sea was high. All the Carnival excursions were cancelled. Some of the family ventured out on the tender and took a glass-bottomed boat trip to Los Arcos, pictured, but they all were horribly seasick and I was glad to stay safe on the big boat. This rock formation is gorgeous.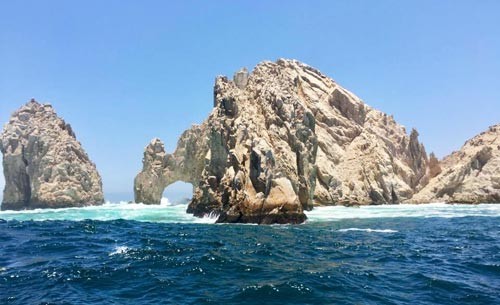 I am probably a snob, because I wouldn't have chosen this for myself, but I enjoyed it tremendously. The employees were beyond helpful and I spent my time on the adults-only deck looking at the ocean and listening to audiobooks and music and getting pampered in the spa. Every day the steward leaves a different towel animal in your cabin.  The food was mostly not great, except for the sit-down dinners, but there was always fresh fruit, and great hamburgers and omelets made to order.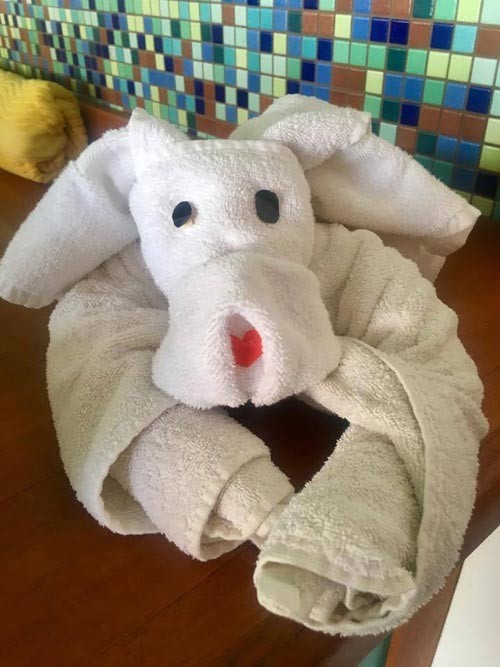 We also stopped at Puerto Vallerta, where I did get off the ship, but didn't go far. I saw a mall, two casinos, a WalMart, and a Sam's Club, and then the curb cuts stopped and I went back on board for a facial. The last picture is me, on my scooter, with Karla and her parents, looking at the ocean. There were dolphins playing in the bow wave, but it was too crowded to get a good picture. The cruise passengers were thoroughly diverse, with nary a Maga hat in sight, yay Californians.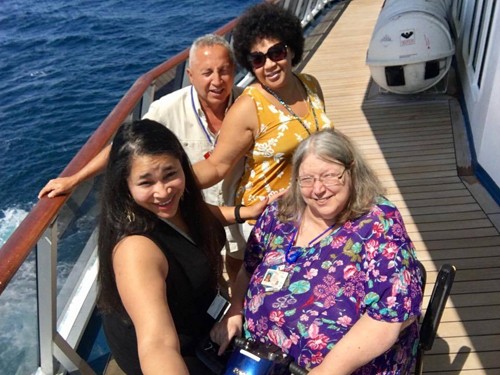 Just wonderful – thank you for sharing the pictures, but especially the story!
Folks, I've got a lot going on, so that's it for today. Tomorrow's post will be like today's, but I'll get to more substantial posts later in the week. We're going to launch a form for submitting pictures, so please hold off until we that going, again, later this week.