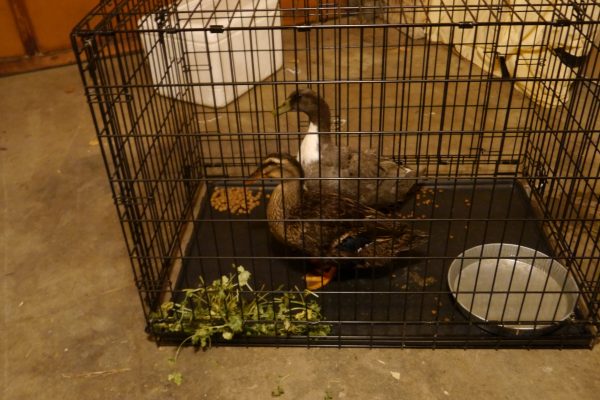 After a very long week away and an even longer 8 hour drive home, this happened. A neighbor spotted these two at the local playground (with pond) and they tried to follow him home. This was yesterday and he was worried. So, since my niece and I had been driving all day, we decided we could use a walk and went to see what we could see.
These two came right up to us. They were hungry, friendly and completely ill-equipped to survive on their own. I had brought cat food along (mine ate cat and dog food along with chicken feed for that well rounded diet, LOL – or just to annoy the four-footers in the family) and they took it right out of my hand.
The only thing I had to capture them with was a cooler a friend had lent me for the trip. Deciding I'd just buy her a new one, I corralled them (one in the grass, the other I had to snag from the water) and brought them home.
Their photo is now on the neighborhood lost and found website page and they are tucked away in the garage, with food, water, cilantro – a duck favorite. Bixby is beside himself with curiosity, but I don't want to stress them, so he's banned from the garage.
The good news, the excitement has tempered any disapproval from the dogs about my long absence. The bad news? I'm attached (I love ducks) but am in no position at the moment to add more critters to my menagerie. There may need to be an intervention.
I. am. exhausted.
Open thread!