Here's an interesting photo of "invasive spawn," i.e., baby tree frogs, from faithful reader cope: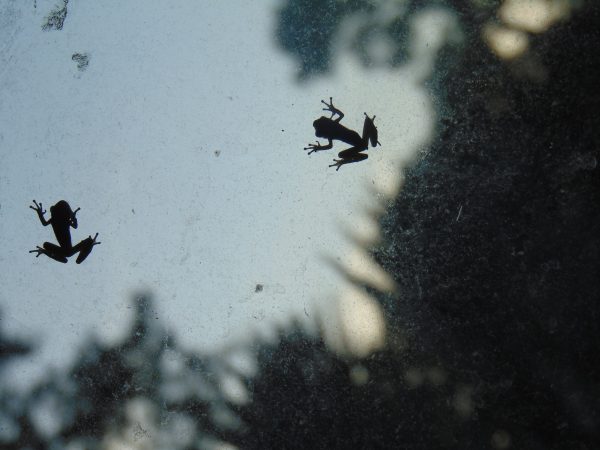 We've had a ton of rain lately, so our local frog population is happy. We got a good soaking from TS Emily on Monday, dried out a little yesterday between sprinkles, and it's been overcast and muggy as hell all day, with another big storm on the way.
I don't mind a bit since rain keeps the heat down. But there is a lot of standing water, and that means the already ferocious clouds of mosquitoes will be increasing their numbers. That part sucks. Plus the muddy paw prints the dogs leave everywhere. And the aggrieved hens.
Oh well. Open thread!
PS: Lindy West has a really great op-ed in the NYT about why Democrats damn sure should make support for abortion rights a litmus test. An excerpt:
Democratic candidates are perfectly welcome to refrain from terminating theirown pregnancies. But to be anti-choice on a policy level is absolutely indefensible from an economic justice, racial justice, gender justice and human rights standpoint. And if the Democratic Party does not stand for any of those things, then what on earth is it?

It's true that the left will have to choose (and soon) between absolute ideological purity and the huge numbers required to seize the rudder of the nation and avert global catastrophe. But abortion is not valid fodder for such compromise, nor is racism, nor is L.G.B.T.Q. equality, nor is any issue that puts people's fundamental humanity up for debate. Abortion is not a fringe issue. Abortion is liberty.

I hear from some people on the left that Donald Trump's victory was at least partially the fault of "identity politics" — of feminists pushing too hard, of Black Lives Matter being too aggressive, of trans people needing to go to the bathroom — as though the violent suppression of a movement points more toward its irrelevance than its necessity. What the Democrats need to do, I often hear, is to move away from issues of "identity" and toward purer, broader issues of economic equality.

But there is no model of economic equality that does not reckon with "identity politics."
A thousand amens, and worth a click for the shitty NYT, IMO.