On the Road is a weekday feature spotlighting reader photo submissions.
From the exotic to the familiar, whether you're traveling or in your own backyard, we would love to see the world through your eyes.
Good Morning All,
This weekday feature is for Juicers who are are on the road, traveling, or just want to share a little bit of their world via stories and pictures. So many of us rise each morning, eager for something beautiful, inspiring, amazing, subtle, of note, and our community delivers – a view into their world, whether they're far away or close to home – pictures with a story, with context, with meaning, sometimes just beauty. By concentrating travel updates and tips here, it's easier for all of us to keep up or find them later.
So please, speak up and share some of your adventures and travel news here, and submit your pictures using our speedy, secure form. You can submit up to 7 pictures at a time, with an overall description and one for each picture.
You can, of course, send an email with pictures if the form gives you trouble, or if you are trying to submit something special, like a zipped archive or a movie. If your pictures are already hosted online, then please email the links with your descriptions.
For each picture, it's best to provide your commenter screenname, description, where it was taken, and date. It's tough to keep everyone's email address and screenname straight, so don't assume that I remember it "from last time". More and more, the first photo before the fold will be from a commenter, so making it easy to locate the screenname when I've found a compelling photo is crucial.
Have a wonderful day, and enjoy the pictures!
On a personal note, it was 10 years ago this morning that I awoke in a hospital in Santa Fe, having had an emergency appendectomy for a burst appendix the night before. I turned on my cell phone to call my mom and tell her I was awake, and was surprised to see that I had a voicemail from a unfamiliar Maryland phone number. It turned out that, during the night a lightning bolt had hit the family house, going through the roof and hitting her bed and catching the house on fire. The house was burned, though not completely, but luckily, she was with me in Santa Fe.
And to show you that life's timing is mysterious, she is undergoing surgery today and can use all the help she can get, so should you have some good thoughts or a kind prayer, I know she'll appreciate it!
Finally a pro-tip: if you have a pain in your right front/side/abdomen, run – don't walk -to seek some medical advice. I thought I had food poisoning, and was in loads of pain afternoon and all night. I remember when, in the middle of the night, my right interior felt like someone had heated a bundle of metal wires with a torch and plunged them into my insides. I was sure it was food related, and was so focused on seeing my mom the next day that I ignored all of this until I arrived in Santa Fe and she asked why I was using a cane, and then insisted we go straight to the hospital.
Good thing, another 6-8 hours and I'd've been a goner. The surgeon asked me a few diagnostic questions; the final one was when he asked me what I'd do if he poked me hard in that area. I calmly explained that I would hurt him – stop him in any way that I could from causing me any more pain. 10 minutes later, I was wheeled down the hall for scans and pre-op prep.
Today some glory of nature –
Hey Alain,

Long time lurker and occasional – very occasional – commenter.  Love your
"On the Road" feature.

Here's some photos from today's – 2 July 2017 – walk through the redwoods.
All cell phone pictures, so apologies for quality issues.

Location: A little north of Albion, California.  This is off an old logging
road, that is used now as a driveway for a few properties.  The area was
logged starting in 1851, so there are no old-growth redwoods left except as
stumps.

AbaloneTree – Abalone shells are a pretty common decoration in Mendocino
County.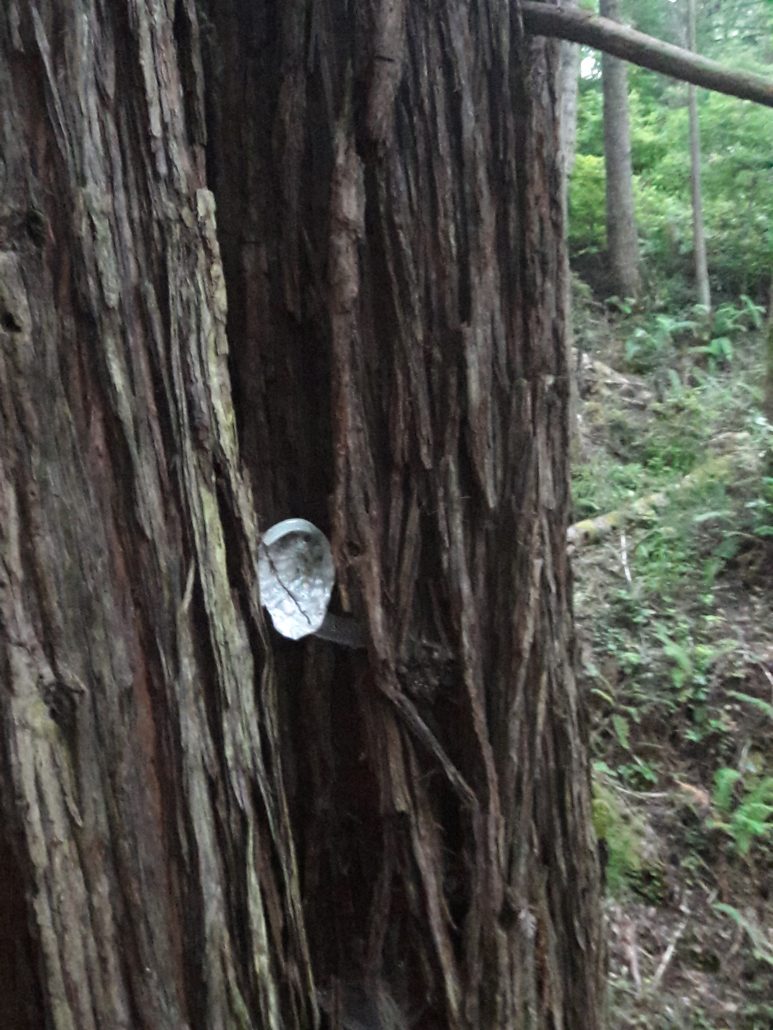 That is so neat! I've seen similar things with horseshoes, guns, and other iron items, but never a shell.
SkidTrail – This is on a steep slope, and long out of use.  Loggers – well,
animals, not humans – would drag the trees down the skid trail to a landing
off the road.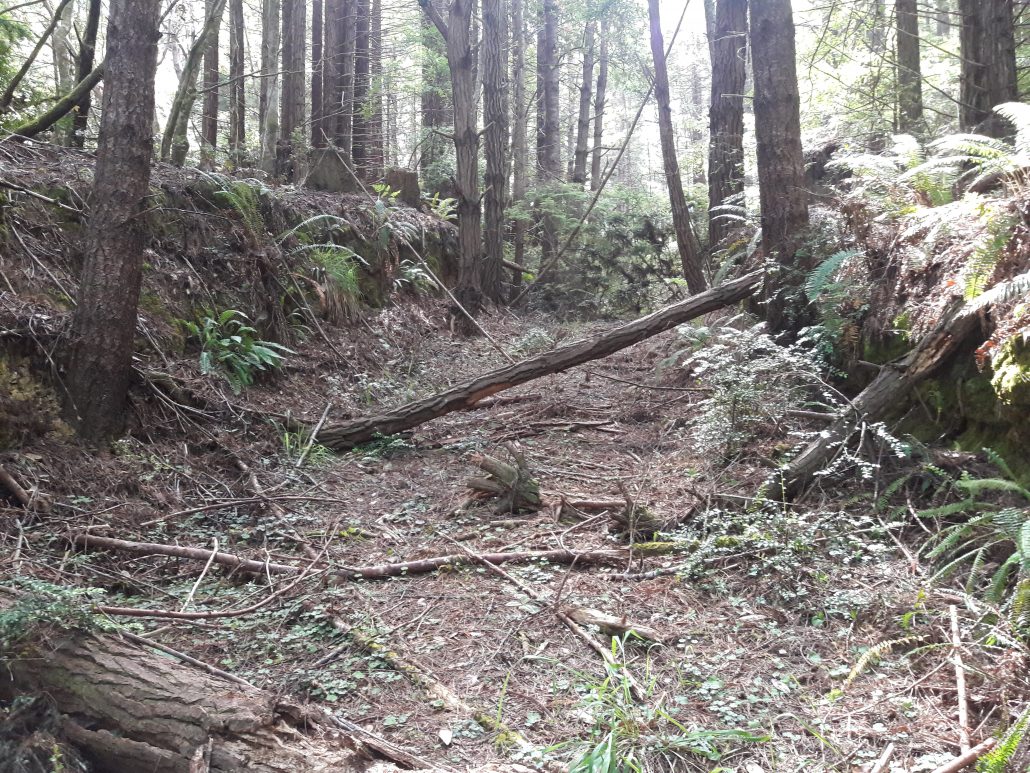 LoggingRoad – There's a vacation home at the top of the hill, so the road
gets some use.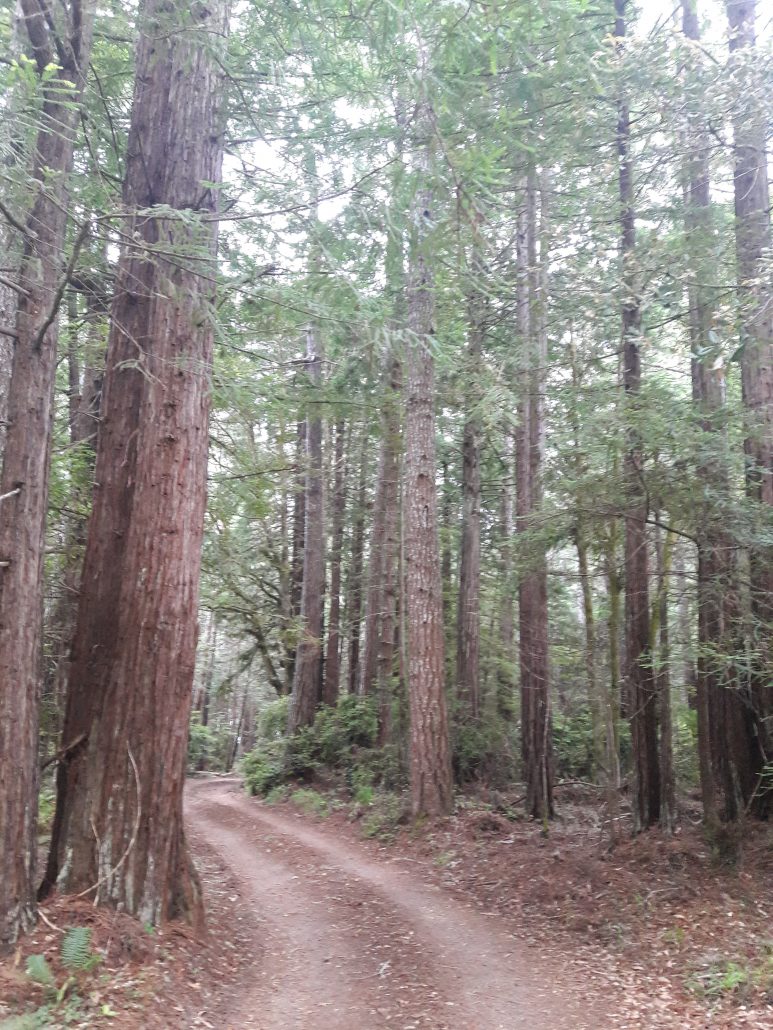 Looks lovely. As a confirmed mushroom lover and hunter, I wonder if there are some wonderful finds around these parts when the season and conditions are right!
FairyRing – A cluster of baby redwoods around a parent redwood.  The entire
hillside is filled with fairy rings around stumps that were logged.  The
opportunistic shrub growing out of the top of the stump is typical, as
well.  The stumps were cut about six feet off the ground.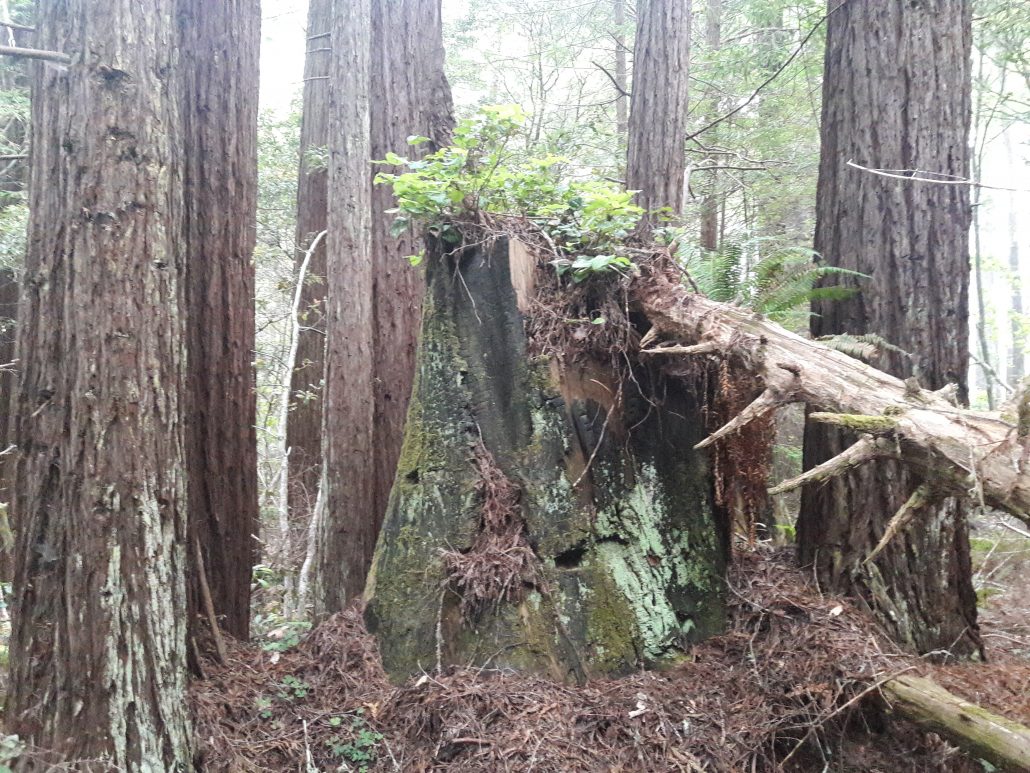 Of course I was wondering about the presence of the other kind of fairy ring!
LookingUp – A ubiquitous photo for redwood country.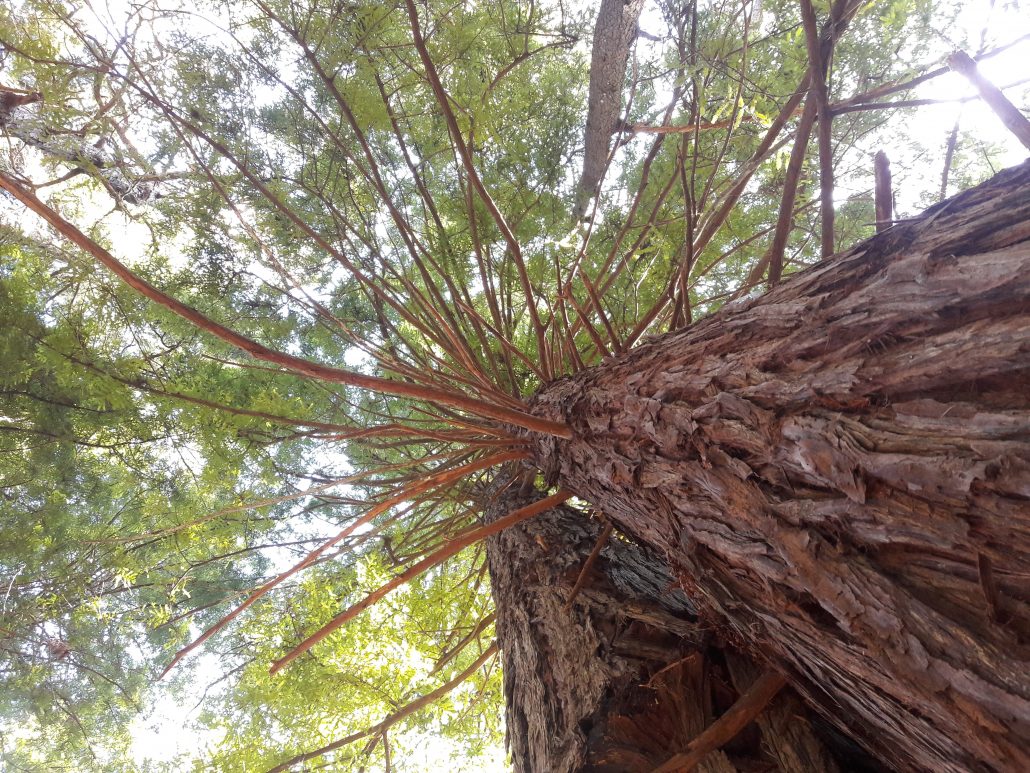 BananaSlug – Another ubiquitous photo for redwood country.  This guy is a
decent size; I've seen bigger, but not by much.  The mascot for the UC
Santa Cruz sports teams.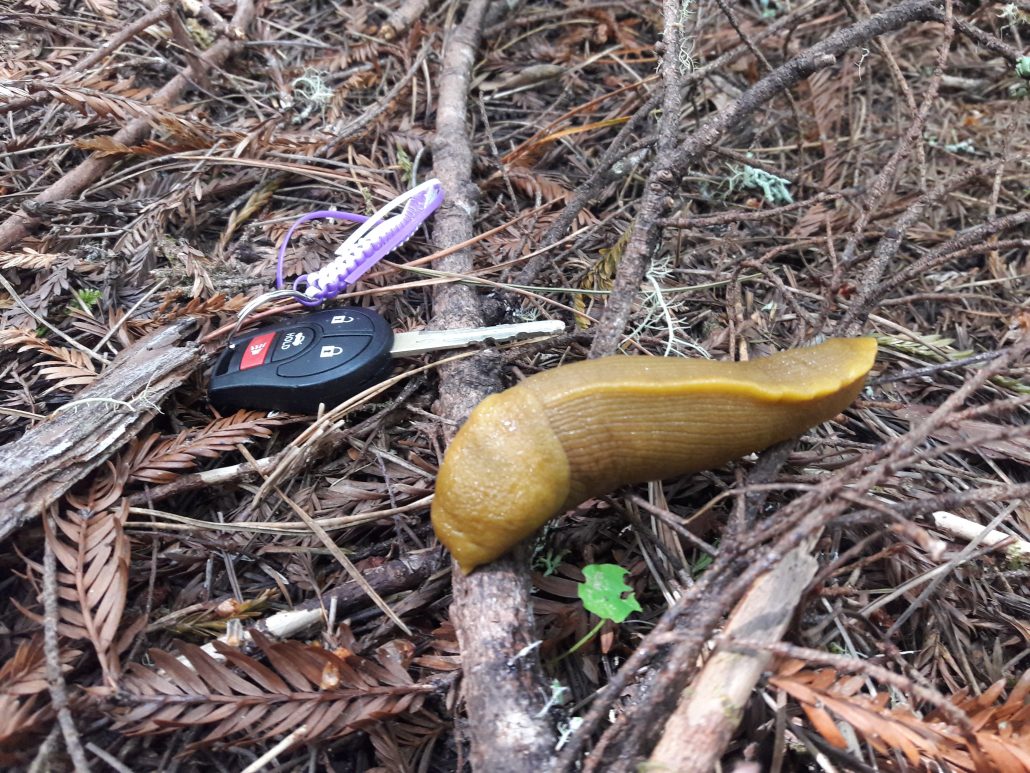 Groovy! I especially appreciate the keys for scale! I spent a wonderful afternoon a day or two before New Year's Eve 1991 wandering around a redwood/eucalyptus forest in that general area and it was magical. If only I hadn't been solely into fine art b&w photography back then, I'd likely have some nice slides of the flora and fauna I saw. Like so many, that part of California is just beautiful – thanks for sharing!
Thank you so much SoupCatcher, do send us more when you can.
Travel safely everybody, and do share some stories in the comments, even if you're joining the conversation late. Many folks confide that they go back and read old threads, one reason these are available on the Quick Links menu.
One again, to submit pictures: Use the Form or Send an Email