Yesterday, GVG looked at the picture below made a very good point in comments: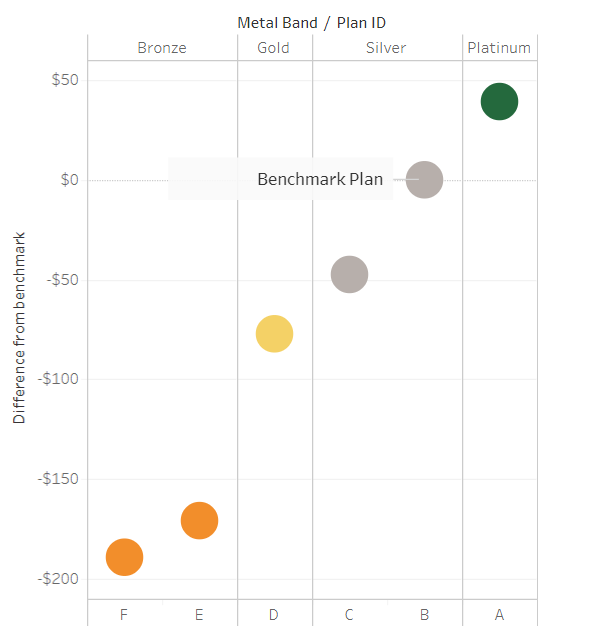 gold is better than silver right? Or did they do something nontraditional and make silver better? I am having trouble understanding what I am seeing.
This picture is weird.  Typically the pricing order from least expensive to most expensive will be Bronze, Silver, Gold, Platinum.  The picture is an accurate representation of one firm's pricing decisions.
So what is happening? The Gold Gap is happening.
This insurer is assuming that Cost Sharing Reduction Subsidies will not be paid normally.  They are assuming that they have to provide lower cost sharing but they won't get quickly paid for the lower cost sharing by the federal government.  The CSR money might be collectible after years of litigation, they might continue to show up in the middle of every month, but the pricing assumption is that the CSR payments disappear for the 2018 policy year.
From that assumption, they then had to decide how they would be made whole.  They had three basic choices.
Do nothing and hope
Spread the pain to all metal levels
Concentrate the costs to only Silver plans
The insurer decided to concentrate all of their CSR costs onto only their Silver plans.  Bronze, Gold, and Platinum plans saw their premiums increase by the normal trend of increasing price per unit of medical care, the number of units bought and other normal factors.  Silver plans were different.  They also had the normal price increases but then the insurer added a twenty five to thirty percent charge on top of the normal premium to calculate the actual premium.
This produces a pricing order from least expensive to most expensive of Bronze, Gold, Silver, Platinum.
It will completely alter buying patterns.  The only people who are extremely likely to buy Silver plans are people who make under 150% Federal Poverty Line (FPL)  as they will get a 94% actuarial value (AV) plan at the post-subsidy Silver rates.  People who make between 150-200% FPL qualify for an 87% AV Silver plan.  Some people in this group may spend a bit more to buy a 90% AV Platinum plan while others will accept a higher deductible for lower premiums to buy the cheaper to them 80% Gold plan.
Anyone who makes over 200% FPL has no reason to buy a Silver plan.  Silver has lower actuarial values and thus higher out of pocket expenses than Gold but the Silver premium is higher.  The people in this group who bought Silver in 2017 will switch their decisions.   Their  Silver plans will have an actuarial value of 70% or 73% for low CSR buyers while Platinum plans at 90% AV are slightly more expensive, Gold plans at 80% AV have lower premiums and lower out of pocket costs and Bronze plans have higher out of pocket costs but much lower net premiums.
All of this is weird.  But this is how many insurers and states are pricing their plans this year as they can not assume that CSR will be paid.
And so, in states where insurers are allowed to load all of their CSR costs onto only Silver plans, the market will see a significant increase in the number of people who have Gold or better plans.