Chicken Dinner!
I can't keep up — I've started lots of aborted posts that got overwhelmed by the sewage-tsunami that is the Republican Party, its boils and carbuncles (yeah, really bad mixed metaphor. Sue me.) — but none get finished before another outrage occurs and…
Hell. We all know the drill.  Folks with more stamina (and intestinal fortitude) than I can muster are doing the FSM's work to keep this blog ably supplied with insight and rage.
Still, every now and then something comes along and doesn't serve so much as an antidote as an alternative to wallowing in the muck.
For me, that almost always includes roast chicken.  So, because it's not just misery that loves company, here are two new preparations to share in the latest in my extremely occasional fowl series.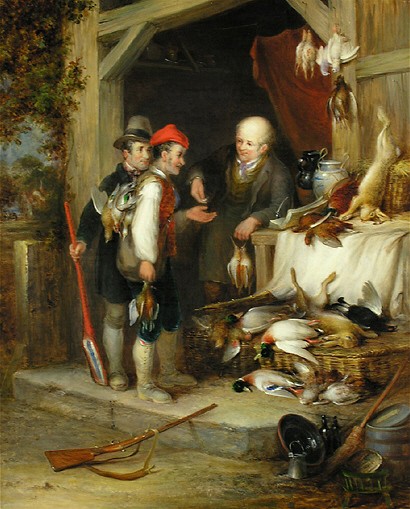 First up, this, from one of the remaining redoubts of more-or-less useful New York Times resources, the recipe section.  I've found Melissa Clark to be a very solid kitchen guide (I have one of her cookbooks in addition to paying attn. to her at the Grey Lady's Food section).
I tried this for the first time a couple of days ago, using 6 thighs rather than a whole (split) bird.  It came out great.  A couple of notes: I didn't have the Peruvian hots in hand, so I used sambal, as suggested, and aleppo pepper instead of pasillo chile powder.  It would be better (much) w. a good new-world chile flavor instead of my Levantine improv., but it was still just fine.  I dialed back a little on the heat, using one jalapeño, instead of the 2-3 recommended; next time out I'll go to two — and any chile powder I use will pack more kick than the Aleppo spice.  Also, I only had time to marinate for about 90 minutes. Next time I'll try to get to about 3 hours at room temperature.
But even with those notes, this really was good eating, and was at least as good or better the next day.  The cilantro sauce Clark outlines is really lovely, a variation on chimichurri that is worth doing.  For our second time around, my wife and I shredded the thigh meat to make simple tacos with more of the cilantro sauce and some avocado.  Didn't need anything more.
All that's well and good, but merely a tease for the peak chicken experience we had recently.  As y'all know, I've been mostly absent here for a while. Lots of reasons for that, from paralyzing political despair to the pressure of a book well past deadline, but probably the largest urge to silence is that it has been a tough year for losing the previous generation, both on my spouse's side and mine.  Too many, folks who shaped who we are and how we think, gone in that hurry that can sometimes happen when you're in later middle age and foolish enough to care for people about a decade or two ahead of you. So (my point, and I do have one), one Sunday a couple of weeks ago, I was in a deeper-than-usual funk of melancholy, and my wife took it on herself to take care of me.
Her gift? Roast chicken in its most echt form.  We got this from a friend who made it for us a while back, and then again from this TV episode.
It couldn't be more simple.  Take a chicken.  Grab some goose fat, melt it in the microwave (just melt it — don't get it really hot). Spoon a couple of tablespoons (or three, or four) under the skin, breasts and legs alike.  Spread some more on the outside of the bird.  Cut a lemon in half. Squeeze what you like of one half over the top of the chicken, and (having forked it a bit) put the other half in the cavity, along with a couple of sprigs of thyme and marjoram or whatever herbs you like.  Chop up some more of the herbs, scatter it over the bird, along with salt and little pepper.
Put the chicken breast side down in a heavy pot — a cast iron skillet, an enameled cast iron dutch over, whatever you ahve — in a hot over.  I've seen variations of the recipe call for as hot as 450 degrees, but we've got a pretty efficient convection oven and set that for 400, and it worked fine.  About twenty to twenty five minutes in for our fairly small chicken (3.5 pounds) we flipped it.  Another 10-15 and it was done.
It was spectacular.  The essence of fowl.
There are only a couple of keys here.  As there is no spice or sauce that masks the chicken itself, this calls for a really good bird; the best you can find.
The other is the fat.  Duck fat is available in jars and that works great.  We actually were able to use goose fat, though, and that lifted the recipe a notch.  I and a couple of friends have a tradition of cooking one goose most years around the holidays.  We render all the fat and save it, and give it as gifts.  It happens I didn't do my goose (with Cumberland sauce!) last winter, but one of my old teachers did, and gifted me a quart of the fat.  It went into the freezer and we've been titrating it out over the year — and it really is the reason to do that big holiday bird.
But really any good fat will do.  Render off some chicken fat over a couple of dinners.   Cook a duck.  Buy a jar of fat.  Bacon grease would be a different accent, but would probably be grand.  It doesn't matter.  This may be the cardiologist-full-employment recipe, but every now and then it is worth it to enjoy a bird in full.
So that's how I'm dealing with the end of the American century.  You?
Image: James T. Eglington, The Poultry Seller, 1839