Within the ACA, plans are grouped into metal bands.  Those bands have a target actuarial value with a band of allowed variance around that target.  After a plan shows that it meets the allowed actuarial value without going the maximum out of pocket limit nor violating the non-cost sharing preventative services restriction, insurers are allowed to design their plans however they want.
There is wide variation in plan design.  There are three cost sharing components.  Deductibles are what the patient pays before the insurer will do more.  Deductibles may apply to all services or only some services.  Co-pays are fixed amounts that the patient pays for a given service.  Co-insurance is a percentage that the patient pays.  Once the total out of pocket spend meets the plan's maximum out of pocket, the insurance company is on the hook for all claims above that limit.
Insurers can choose their plan designs and those choices have significant distributional impacts:
Deductible plans favor the sickest people as the low utilizers pay for almost all of their care via deductible cash. That means the proportion of the pool's individual responsibility amount is borne by healthy people.

Co-pay only plans favor people who use highly concentrated cost services. A co-pay does not differentiate between a specialist visit with a contract expense of $200 and a specialist visit with a contract expense of $600. It is the same fee. So people who use very costly services but only rarely are best off. People who use a lot of fairly low costs services on a regular basis pay more proportionally.

Co-insurance only plans favor low cost utilizers. They are not paying full price via their deductible, and unlike co-pays, the individual cost per unit matters.
I was talking with a colleague about insurance in North Carolina earlier this week. There are 33 plans being sold on the Exchange. Twenty-seven of the plans have a maximum out of pocket expense (Max OOP) of $7,350.  I expected to see that type of Max OOP for Catastrophic and Bronze plans. I would not have been surprised to see that Max OOP for Silver plans but I was surprised to see a $7,350 Max OOP for a Gold Plan.  The lowest Max OOP was $6,650 for a Bronze plan where the entire cost sharing was the deductible.
We looked into the plans and saw that the deductible got lower as the AV increased as well as co-pays and co-insurance.  The max-OOP translated to different levels of spending.  The Bronze Plan Max-OOP was $6,650 before the insurer paid everything the Gold plan only paid some of the claims to just over $40,000 before the insurer had to pay everything.  It is mainly a risk distribution bet on actuarial value as people who have a $10,000 claim are much better off in Gold than Bronze.
But as part of that discussion, I got curious about how much weight the deductible bears in cost sharing across the country.  I used the Landscape PUF to calculate a rough metric: Individual Medical Deductible/Individual Medical Maximum Out of Pocket.  If the quotient is 1, the deductible does all of the cost sharing.  If the quotient is 0 there is no deductible.  The Gold plan I mentioned above has a quotient of .17.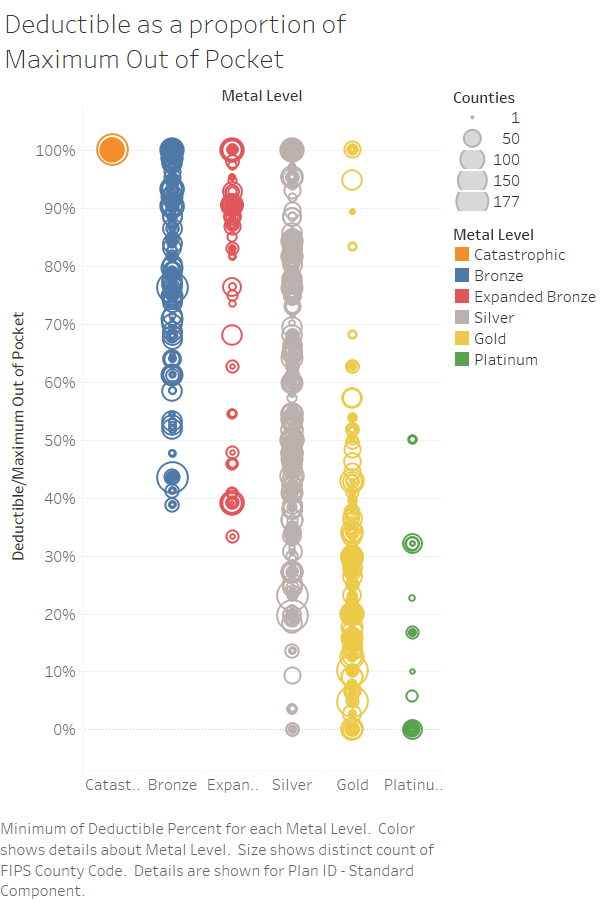 I'm seeing a few things. There is wild variance in plan design. Silver is all over the place. Zero dollar deductible plans are possible with Silver, Gold and Platinum.  Low deductible plans are fairly common for those metal plans.  They make up their cost sharing by co-pays and co-insurance.  I need to go back over time and calculate this quotient in previous years before I can make strong statements.  Right now it looks like plans of Silver/Gold/Platinum are being designed more often than not to look or actually be more attractive to healthier individuals.