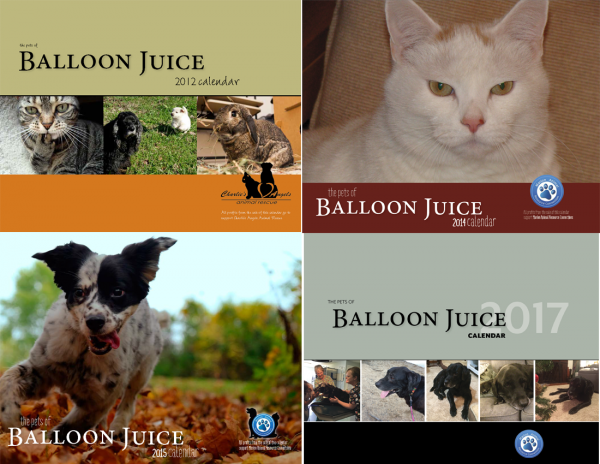 i've spent 2017 marching, calling, writing letters, sending emails, signing petitions, donating, participating in GOTV for critical elections happening in states other than the one i currently live in and existing in a rollercoaster of emotions most of which require high level coping mechanisms and raging at the universe and trump voters. much like everyone else.
the balloon juice calendar, though, is a project near and dear to my heart that highlights the good a group of politically aware, animal-loving people can do at a very local level. each year the proceeds of your purchase of the calendar go to support a small, local animal rescue.
here's how it works: you, dear balloon juice reader, send in a photo or five of your favorite pets and i put them into a calendar format that is then sold through CafePress (you can still buy calendars going back to 2011 — collect them all!). the calendar is slated to be ready in very early december.
nit picky details: your photo(s) should be the highest resolution possible. if you can, name your file with the name(s) of the pet(s) in it and if you can't, you can tell me in the email. then email it to me at bjcalendar18 at yahoo dot com. cut off for submissions is about a half an hour before i upload the final files to CafePress but aim for the sunday of thanksgiving weekend.
questions? ask 'em here or at the email address.