We looked at a quick and dirty change in enrollment on Healthcare.gov yesterday. Overall enrollment on Healthcare.gov was down by about 4%.There was wide variance with Kentucky gaining more than 10% of its 2017 enrollment and Louisiana dropping over 20% of its enrollment. The ACA faced several massive shocks this year. The termination of Cost Sharing Reduction (CSR) was one of them. Most states had a plan to cope with CSR but that plan varied.
Below is a very quick state level chart of how the four different strategies played out. Silver Load meant that a state had every insurer put all of the CSR costs only onto the Silver plans. Broad Load had a state put the cost of CSR into all plans. No CSR Strategy was the North Dakota response of nothing while Mixed responses had insurers in a given state do many different things.
I am not controlling for anything. I think that there is a strong case to control for price spreads, network quality, insurer longevity and probably political orientation. An analysis that goes into a peer reviewed journal probably needs to be focused at the county level with a boat load of controls. I would be fascinated to see what has happened in the Mixed Strategy states as there are a couple of different flavors of mixed strategies.
This primarily is for my intuition. And it looks like nothing is obviously statistically significant. The outliers that I am very curious about are Louisiana and Arizona on the downside while Georgia and Kentucky seem to be upside surprises. I think there is preliminary evidence that Silver Loading helped enrollment compared to either Broad Loading or mixed responses but this will be dependent on better data and better methods than I have.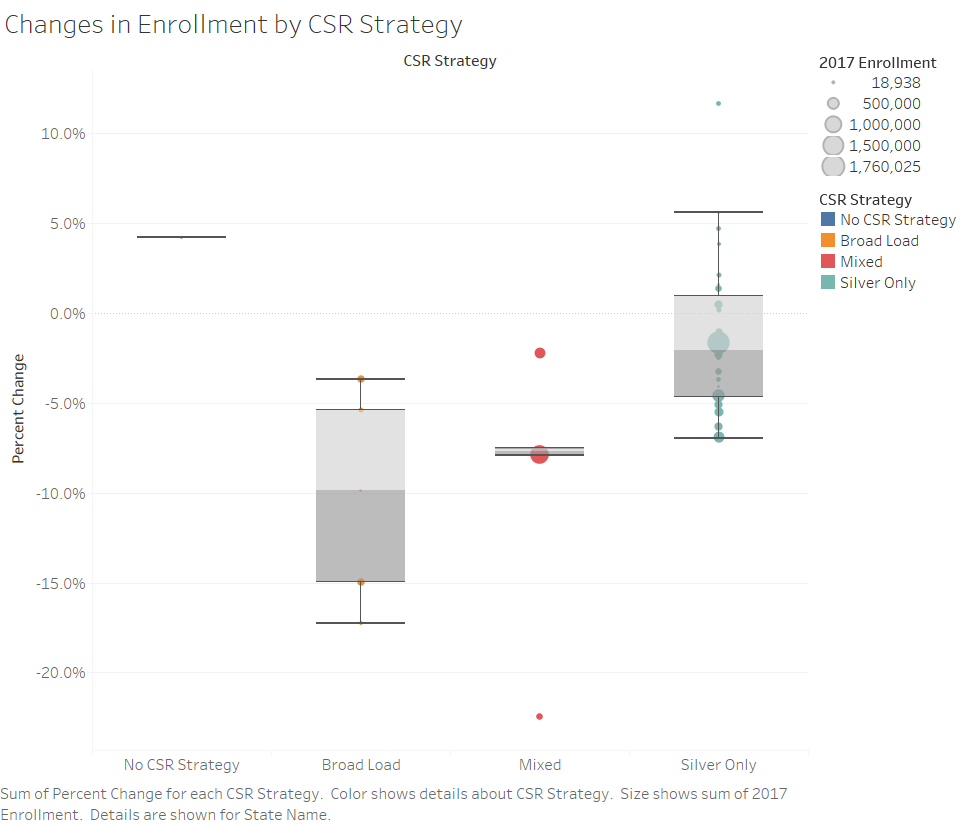 2018 Enrollment data is at CMS.