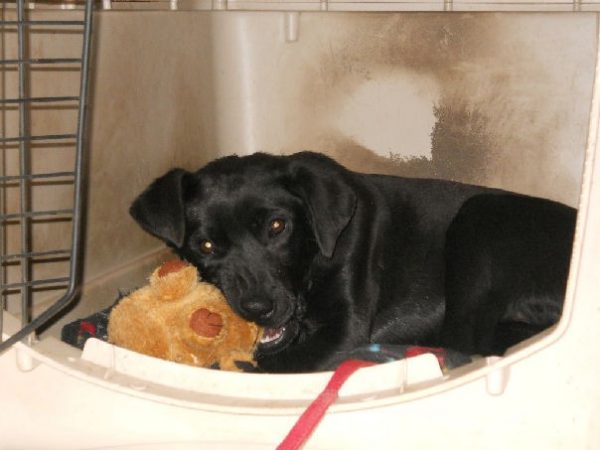 From inveterate commentor Miss Bianca:
Most all y'all know that my old dog, the noble Stella, died recently. So many jackals sent their condolences in response to my distress call that I was quite overwhelmed. I can't thank you all enough for letting me know that I wasn't alone in feeling the pain of a beloved dog passing. I'm getting weepy just thinking about it.

I expected to stay weepy for quite some time as we made the transition to a one-dog household. I meant to put away Stella's bowl, take the ramp back that the vet had lent me to get her into and out of the car…make plans that included a trip out of town this week to look at a horse (because hell, why not jump right into having more animals to take care of, right?). You know, deal with the loss. But certainly not by getting another dog. Oh, no, not yet.

Then last Wednesday – this was not 72 hours after Stella's passing, mind – my boon companion D, whose house I have the honor of sharing, and whose preferred canine companion would be something the size and shape of a Pomeranian, showed me a text he got from our neighbors down the road, with a photo of a very sad-looking puppy . "Do you recognize this dog?" was the question. They had found him on the porch, huddled next to their courtly elderly Airedale, who was watching over him.

Well, no. And no tag on the collar, no chip…but puncture wounds on his neck and side, and one ear. And since ours is not a neighborhood where a little puppy is likely to stray into from elsewhere – we're a fair ways off the road – the dark suspicion that he had been dumped, and savaged by either another dog or a wild animal, occurred to all of us.

Well, you can guess what happened. "Going to see the puppy" became "taking the puppy to the vet" became "taking the puppy in to foster" became "puppy is now home" within the space of a week.

So then the name game began…and since I was in a sentimental mood, and had just been thinking about what Stella – and our late lamented Walter – would have been like as puppies, I wanted something reminiscent of either Stella or Walter. So first came the star-themed names, and "Astro" made the short list. But then D said "Astro" reminded him of a Chevy van, so that one was out. Then the "W" names – Wesley? Wallace? Wash? Winston? Nothing was sticking, till we were watching "Veronica Mars" the other night and D blurted out, "Watson".

"Watson. Watson. YEESSS!! WATSON!! "

So, say hello to Watson, BJ! I am convinced Stella has been meddling from beyond the grave to bring us together. And Watson, meet your new fan base!
Welcome, Watson! (And forgive the title — I have a nasty cold, and not being able to breathe properly is starving my brain of oxygen.)