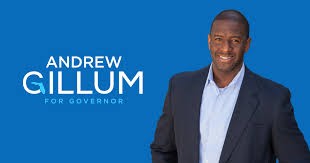 I voted for Gwen Graham in yesterday's primary. My husband voted for Andrew Gillum, who won in an upset that, in hindsight, we should have seen coming.
Levine and Graham split what might be called the center-left vote, and two billionaire vanity candidates sucked up 14% or so of the Democratic votes. In that context, Gillum's win isn't that much of a shocker.
I am not a moderate, so why did I go with the more centrist candidate? Fear, to be honest. As I've said ad nauseum, Florida is a microcosm of America, with coastal liberal enclaves and a red interior.
Is the state ready for a proudly progressive black governor? Obama won Florida twice — and won the nation twice — not because we're anything close to post-racial but because he was a supremely gifted politician with a compelling vision that appealed to people distributed across the sanity spectrum.
Is Gillum? I sure as hell hope so. I find Gillum's message compelling and his delivery inspirational, but I'm not a typical Florida voter. On the other hand, Florida Democrats always field centrists for the reasons described above, and we haven't won a gubernatorial race in this century.
I admit that's a lazy summary of the party's woes — I think Graham would have made a much stronger candidate than her predecessor nominees. There were unique factors in each of the contests that don't apply in 2018. But still.
Another reason I went with Graham in the primary: there's an FBI ethics investigation into city hall in Tallahassee, where Gillum is mayor. He's not the subject of it, but that doesn't mean he won't be smeared relentlessly because of it. So, that's a concern.
What shouldn't be a concern is the so-called "Bernie Bro" tag sticking to Gillum and alienating Hillary Clinton Democrats. Sanders did endorse Gillum. But Gillum was a Clinton supporter in 2016 and a Clinton delegate in Philly.
He's progressive – in favor of a $15 minimum wage, Medicare for all, legalized pot, etc. So are a lot of Democrats who don't fall into the Sanders camp, including me.
IMO, Dems who automatically cross Sanders-endorsed candidates off their Christmas card lists give too much power to the very person they resent playing kingmaker. Gillum is a Democrat. Period.
I will knock on doors, make calls, drive people to the polls, etc., for Gillum and the entire Democratic slate. I think fellow Florida Dems will too, no matter whom they voted for in the primary.
As the data comes in on yesterday's primary, I'm increasingly hopeful for Gillum. I voted in my heavily Republican district in the last half hour polls were open, and the staff said turnout was light. But supervisors of elections at the county level are reporting record turnout.
Gillum's GOP opponent is an extremist whose lips are firmly suctioned to Trump's ass. Check out this embarrassing ad that he ran during the primary — which I hope Team Gillum runs for the next 69 days:
Jesus.
As Graham said in her concession call, "Now, Andrew, win this damn thing!"
PS: If you're so inclined, you can donate to Andrew Gillum here.