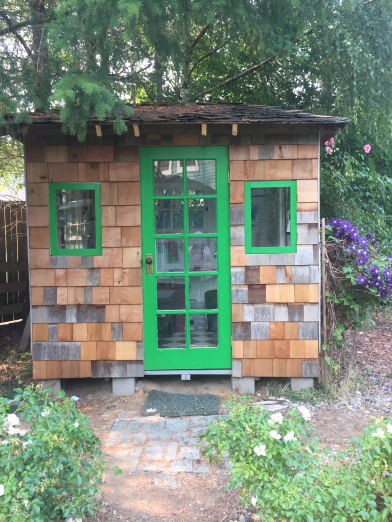 Update from indefatigable gardener / commentor Opiejeanne:
This is the garden shed project so far.

[Here's the original post, from back in May.]

You can see we haven't quite figured out how to put the ceiling up. Some of the items like the paint tubes and brushes will have to be brought in for the winter because freezing is not recommended.

The purple chair was a garage sale find; $5.

The blue dresser/desk/secretary was $35 at an architectural salvage place in Seattle. They don't usually have much furniture. I painted it after finding out that it used to have a nice mahogany veneer that must have gotten wet and the "repair" job was not good. They filled the areas with spackle and didn't bother to sand it down before painting it black with a drab green interior.


The floor needs to be swept and the rug shaken out; the little rug was damaged by our cats so the shed got it.
***********
What's going on in your garden(s), this week?