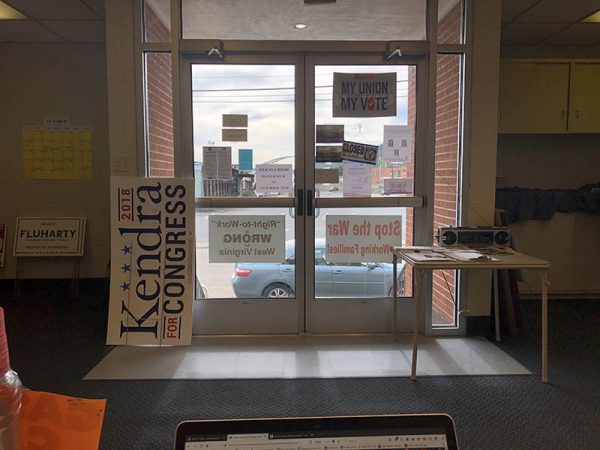 It's awesome how much money we've raised this year for candidates, but candidates also need people to put that money to good use. I'm down at the Wheeling HQ for the Ohio County Democratic Party, writing postcards for William Ihlenfeld, who is my candidate of choice this election for the State Senate. Ihlenfeld is battling a lot of dirty money that is backing his opponent, Ryan Ferns. And when I say dirty money, I mean literally:
Three years ago, a group of residents in West Virginia's northern panhandle formed a new group, the Ohio Valley Jobs Alliance, and declared themselves a "voice for local jobs."

A few months later, however, the group's first major action was aimed not at creating jobs, but at blocking them.

In November 2015, the alliance, known as the OVJA, filed a legal appeal to challenge a key permit for construction of the Moundsville Power project, a natural gas-fired plant in Marshall County.

The move was puzzling. Backers of Moundsville Power said the project would be a significant boost for the area, providing 500 jobs annually during a three-year construction period and 30 permanent jobs once it was operational. Supporters said the project was a way for residents to capture more economic gains from West Virginia's booming natural gas industry.

The legal action, it turns out, was funded by Murray Energy Corp., one of the nation's largest coal producers, one of the group's leaders testified in a deposition in the case. Murray Energy's founder and CEO is Robert E. Murray, who is among the nation's best-known advocates for reviving the coal industry and cutting regulations related to it.
Murray is the clown who was widely mocked by John Oliver and then sued him in response. At any rate, they are pumping a ton of money into a State Senate race, because, well, King Coal ain't going down without a fight.
At any rate, if you can, get out and walk the streets, man the phone banks, staff the offices, write postcards, and if you just don't want to even do that because you don't like to be around people (which I totally get), maybe make them a lasagne or something healthful and drop it off at HQ so they don't subsist on only fast food and cookies.