The Kaiser Family Foundation is recapping the Medicare Advantage landscape files for 2019.  The recap differs in details but is similar to previous years as Medicare Advantage is a well functioning program that seems to be delivering good value to both beneficiaries and the federal government.
Medicare Advantage are plans that are offered by private insurers to replace the traditional Medicare benefit package.  People can buy a Medicare Advantage plan or they can stay in traditional Medicare with the option of buying a supplemental plan to provide catastrophic risk protection.  Medicare Advantage is growing in popularity.
However it is not offered everywhere
No Medicare Advantage plans will be offered in 115 counties in 2019, down from 149 counties in 2018; these counties account for one percent of beneficiaries, most of whom live in relatively rural areas in California. Eight other states also have counties in which no Medicare Advantage plans will be offered in 2019 (AK, CO, IA, ID, NE, NV, VA, and WA).
And even where it is is offered, there may be low competition as a "plan" is only a single policy like a Gold $2,500 deductible narrow network is a single plan from a single insurer.  A one plan county is a single insurer county.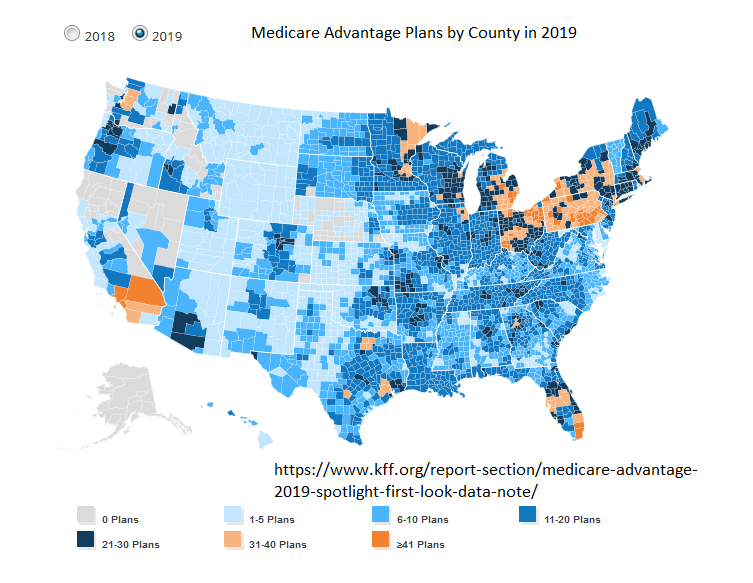 And very few people care.
Indifference is rational as everyone who is Medicare eligible has access to baseline coverage through traditional Medicare. It is the public option of the system that acts as a backstop to the added-on layer of Medicare Advantage.  It is the default that is everywhere for everyone.  Some people opt out of the default but it is always there no matter strategic decisions an insurer makes due to policy, actuarial or political pressures.