I went to the orchard this afternoon, and along the way thought about this article I read a few days ago:
Bite into a Honeycrisp apple and you understand why consumers are willing to pay so much for a piece of fruit: the crunch.

That's no accident. In the pre-Honeycrisp era, apples had just two textures: "soft and mealy (that nobody liked), and then we had the good apples, the hard, crisp and dense," said David Bedford, one of the original breeders of the Honeycrisp.

Unlike the vast majority of modern commercial produce, the Honeycrisp apple wasn't bred to grow, store or ship well. It was bred for taste: crisp, with balanced sweetness and acidity. Though it succeeded beyond anyone's wildest dreams, along the way it became a nightmare for some producers, forcing small Northeastern growers to compete with their massive, climatically advantaged counterparts on the West Coast.
If you read more than the excerpt, you will learn that the Honeycrisp, while a good apple and apparently in super high demand, is a total kick in the dick for growers. While I was picking out what I wanted, I asked the guy about them, telling him I had read an article about them. He asked "the one online?" and I responded yes, and his eyes narrowed, face reddened, and he got the same look I get whenever someone brings up Trump or the 2016 primaries- "That article didn't do it justice."
He then went on an extended but polite rant about them- they only fruit every other year, they get sunburnt, they grow too big and break branches on young trees, they are susceptible to sunburn and basically anything that can plague any other apple tree, and even storing them is a colossal pain in the ass. You pick them, store them outside for two days, then move them inside for a couple days, then you can refrigerate them, and even then they can start to decay. So the next time you bite into a delicious honeycrisp, just remember that apple growers think you are an asshole.
I browsed around the place for a bit- I just love it. It's a little garage like building on the outskirts of the orchard, with large 3 foot tall 4-5′ wide bins just filled with all different types of apples, and as soon as you walk into the place the aroma of apples and ciders just takes over. It's a no fuss operation. Just one guy, a folding table with some bags and a tin for the cash, and the big bins for apples and a couple refrigerators for the cider.
I picked up a couple different varieties- including some small fuji's for mom (she likes tiny apples, and the galas were done for the season) and a gallon of cider for Harry up the street at the general store. For myself (and I will share a few with dad), I got a bag of Ruby Frosts and a bag of Nittanys. The Ruby Frost is a deep burgundy colored apple, of medium size with good crispness, a nice sweet tart first bite, and then a semi-sweet finish with a solid flavor of what I can only describe as the essence of apple. They are a new variety from New York (although I don't know how long my guy has been growing them), and I think they are very pretty: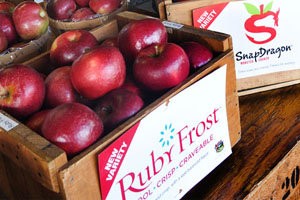 I also picked up a five lb bag of Nittanys. They are also a very pretty apple- a bright red with patches of yellow and orange through out, almost sun kissed, that closely resemble the apple version of a properly mixed tequila sunrise. They are crisp and juicy, with a nice tart taste.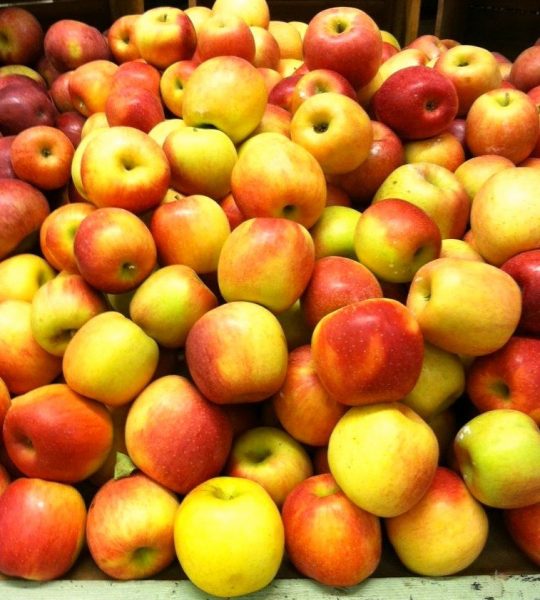 And then, of course, I got a bag of honeycrisps, because we all know I am an asshole and there's just no hiding it.