Here are two of my crew chillin'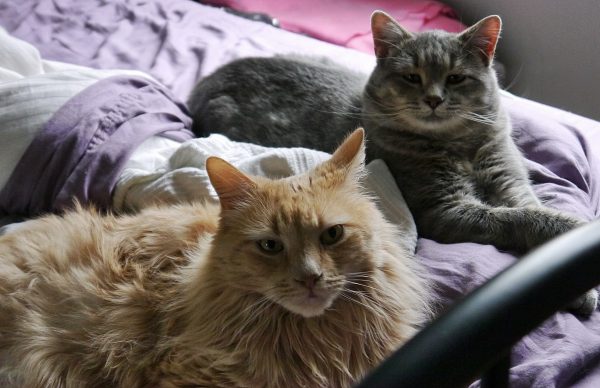 The little monsters wouldn't let me make the bed.
This is a good article a FB friend linked to this morning:
Peter Kruger's Answer To Political Correctness Complaint
The fact of the matter is that it wasn't everyone saying whatever they wanted, and the fact of the matter is that there were many eyes batted.

It wasn't all that long ago that there was a lot more social pressure on various minorities to shut up, sit down, and "know their place." This was legally codified in Jim Crow against African-Americans, but it was socially accepted against all sorts of other groups as well, from ethnic and racial discrimination to discrimination on the basis of gender and sexual orientation.

Those in power could say whatever they wanted. Those not in power? They faced severe consequences for saying whatever they wanted. The people in power didn't bat their eyes, they took baseball bats to those they didn't like.

It was only twenty years ago that Matthew Shepard was beaten to a pulp, tied to a fence, and left for dead because he was gay. He was not the first to be beaten to death, discriminated against, or otherwise marginalized.

Gay people couldn't say whatever they wanted. They faced threat of physical harm and death to even be. They sure batted an eye at that. Every gay joke told at their expense?

Eyes were batted at those.

===============

Microaggressions are the little interactions that the people in power don't even think about, that don't even register on their radar, that communicate to people not in power that they are not welcome, not part of the privileged class, not equal. That they are lesser. That are just based on various assumptions that may or may not have any validity to them.

================

Society didn't shift abruptly. Microaggressions aren't new.

You're just hearing about it more, because the people who have been suffering it for a long time have decided that they aren't going to suffer it anymore. The disempowered recognize that it's time for them to be heard.
Read the whole thing here.  There is so much more…
Open thread