Rep. Frank Pallone (D-NJ) is a Congressman to watch if one is interested in health policy. He is the chairman of the House Energy and Commerce committee.  This is a key healthcare committee.  He introduced HR 5155 last Congress that was a pragmatic set of tweaks and fixed to the Affordable Care Act.  His bill is an off-tackle run that is seeking to advance the football without trying to score an eighty three yard touchdown on a single touch.  I think a bill like this will be seen as a "minimal 10 day fix" bill if there is a Democratic trifecta in 2021 and that trifecta decides to spend its effort and time on another domain and wants to get a medium sized healthcare bill out during lull times.
One of the sections is the removal of the 400% FPL cap on premium tax credits.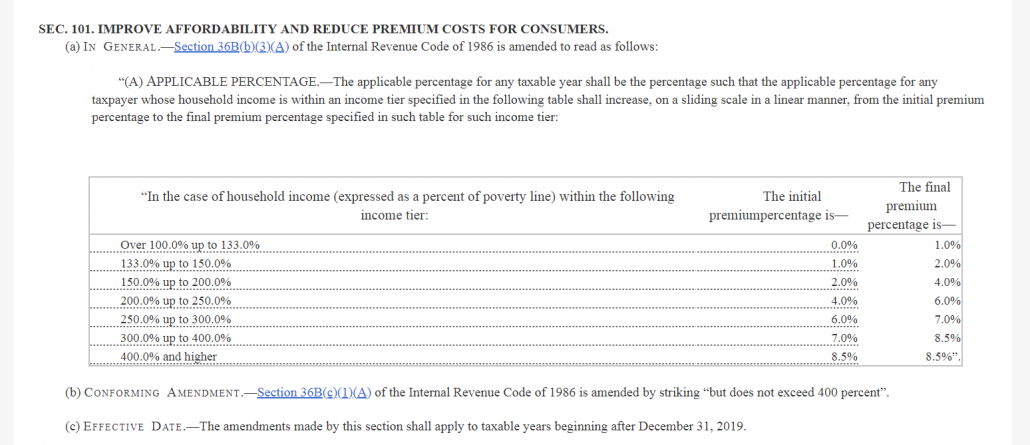 This solves the ACA cliff problem. Someone making 399% FPL has a very strong incentive to not earn another dollar as that dollar could cost them thousands or tens of thousands of dollars in premium subsidies depending on location, age and family size. Cliffs are usually a BAD THING (TM) in public policy.
A side effect of this proposal or any other proposal that removes the subsidy cap is that it makes the Catastrophic plans pointless. This is not a big deal as Catastrophic plans have never been more than a small part of the risk pool. They are a specialized plan which have fascinated me.
Catastrophic plans are currently available to anyone who is younger than age 30 or who has a hardship exemption. A common hardship exemption is that there is no "affordable" coverage available to an individual. "Affordable" means an insurance plan was offered for less than 8.16 percent of income in 2017. In 2019, an additional hardship exemption will broaden catastrophic eligibility as people who live in single insurer counties will automatically qualify for a hardship exemption. Catastrophic plans are not eligible for premium tax credits, which means that buyers pay the full premium without assistance from the federal government.

Catastrophic plans in 2019 have slightly lower actuarial value in comparison with bronze plans. The deducible is set at the maximum allowed out-of-pocket limit ($7,900 in 2019), and after that all costs are covered. Three primary care visits are excluded from the deductible. Currently, catastrophic plans are risk adjusted only against other catastrophic plans.
They have a non-subsidized pricing advantage over Bronze only because they are not in the shared risk adjustment pool.
If there is universal subsidization, then their pricing advantage is highly likely to disappear. Subsidies change the relevant premium numbers for buyers from the price level to the price spreads. Silver gapping matters to catastrophic buyers.

Right now, catastrophic plans don't receive subsidies. They have similar benefit and actuarial value as Bronze plans. If subsidies are applied to all, then almost all counties where an insurer sells a Catastrophic plan on Healthcare.gov will have at least one Bronze plan that is cheaper (net of subsidies) for a single forty year old.
91% of counties on Healthcare.gov have at least a Bronze plan that is cheaper, net of subsidies than the cheapest Catastrophic plan for single 40 year olds. Some counties (mainly Oklahoma) have Gold plans that would be cheaper, net of subsidies, than the cheapest available Catastrophic plan under the Pallone scheme.
I'm having a hard time seeing how Catastrophic plans make any sense in a plausible future legal environment that extends subsidies up the income ladder. The only population that may see better deals are a very small sliver of 20 to 29 year olds or people earning high six figures in counties where there is a very tightly compressed premium spread.