American politics right now is basically a race of the registration tables against the mortality  tables.
Charles Franklin has a great graph on Twitter looking at mid-term voter participation rates by age for 2010, 2014, and 2018.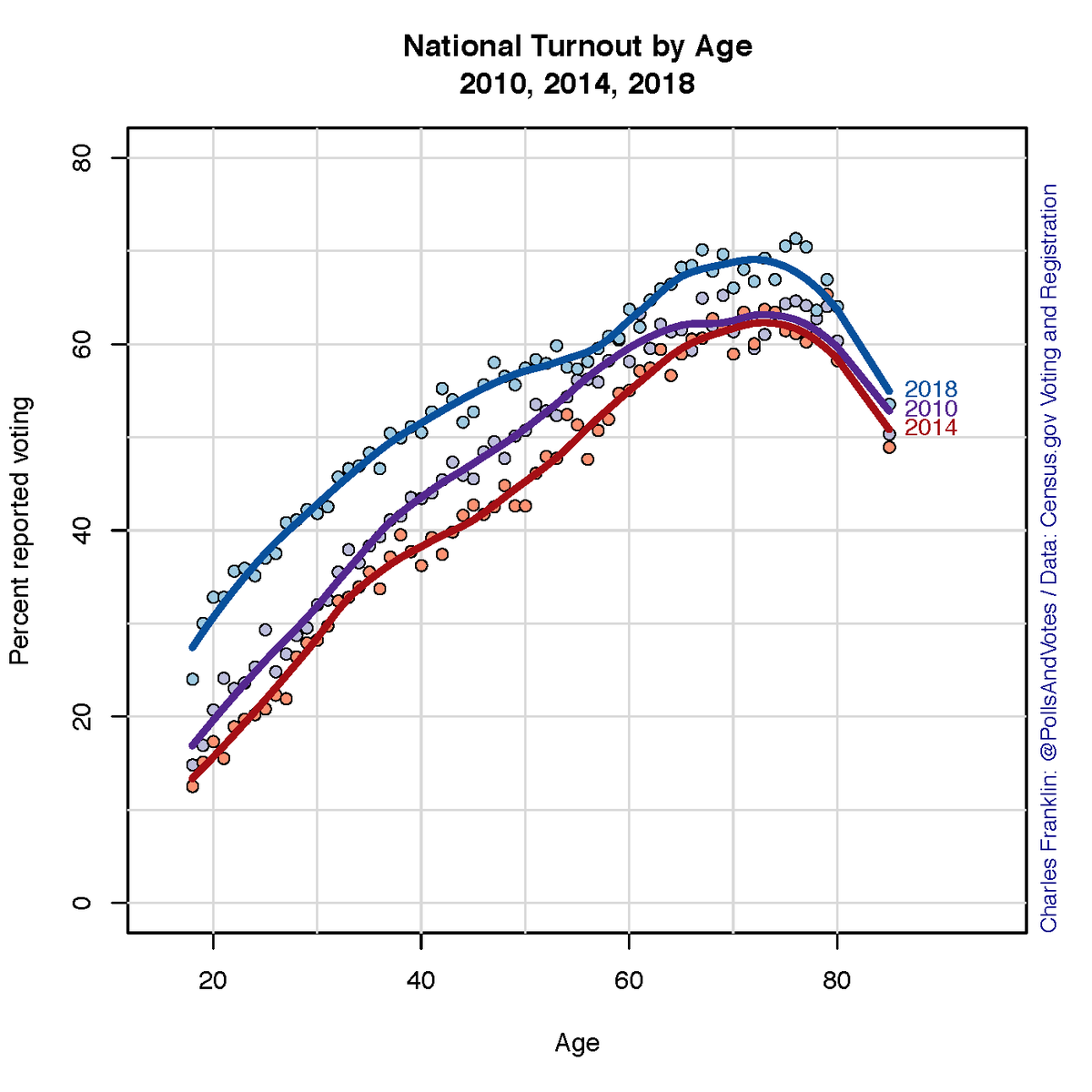 There are a few take-aways here. First, the probability of voting by age pretty steadily increases as cohorts age until about age 75 or so and then it drops off. Secondly, the slopes are fairly similar over time; it is a matter of levels for the differences in turn-out.  Young voters increased their voting rates faster than almost any one else in 2018.
Age is a strong dividing line. Pew shows this nicely from a poll in January 2019:
The oldest Millennials are just getting to the top of the first kink of the probability to vote curve.  Another year will make these old Millenials closer to forty and add another half a point or so increase in likelihood to vote during a midterm.  The eighteen year old kids who voted for the first time in 2016 will see a few more of their peers show up for the first time as twenty year olds.  Generation Z voters are just starting to vote in small numbers.  There will be far more new voters due to aging than lost voters due to mortality.
The core of the Trump minimum winning coalition is old people.  There is almost no juice left in mobilizing Silent Generation voters.  The youngest Silent Generation sliver will be at peak voter participation conditional on being alive.  Older Silents will be a declining share of the electorate for two reasons; there is a decrease in voting conditional on being alive to vote so some 2016 voters will be alive but not voting and there is significant mortality in this generation.  This generation will cast fewer voters.  Boomers are still slowly climbing the participation curve but half of the generation will be Medicare Eligible by election day so mortality will start fighting hard against increased participation.
Michael Bitzer has a good illustration of these effects on generation cohort composition in  North Carolina general elections.

The most Trump favorable generations (Boomers and older) are becoming less important as time goes forward.  Young voters came out in disproportionally large numbers in 2018.  The Presidential cycle will see Millenials and Generation Z vote share increase due to both the natural aging of the generation by another two years and the typical young voter boost in the general cycle as these are where the marginal voters are en masse.
It is a race, demographically, of whether or not the 18-40 year old population in 2020 can register and mobilize fast enough and decisively enough to deliver huge margins against Trump and for a single candidate or not.  And this explains some of the voter registration restrictions and hoop jumping.